Brats alone have a great taste; yet, you'll have lots of delightful selections as far as bratwurst sides dishes to serve up alongside them. Bratwurst is easy to cook recipe, and that holds for many side dishes as well.
Making Bratwurst, along with some of the best sides yourself, is a definite trend in the kitchens of many ambitious grill masters. We will reveal you the top and best side dishes are to make with your own best Bratwurst!
However, there is no need to prepare only extravagant sides such as glazed carrots with tarragon or parsnip remoulade. Most simple and straightforward is the choicest way to go with the sides, particularly for the real purpose is to relish all that goodness of brat.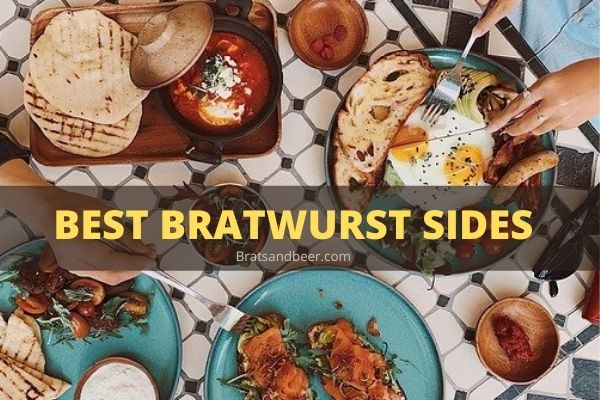 So, before we explore the brat-sides, it is also essential to make the perfect brat first! Hence, we'd serve up a few tips for serving up the ideal Bratwurst. Stay tuned, buddies!
Which side-dishes go well with Bratwurst?
Clearly: there is Sauerkraut with Wurschd. Sometimes also fried potatoes, bread or mash. The little ones from Nuremberg are served in groups of three in the Wiggle. Always with you: medium-hot mustard, ketchup, or Kreen (horseradish).
Serving Up the Perfect Brat
Serve on fresh, good quality buns (we do not suggest hot dog buns) and top with the best onions along with pepper mixture you sauteed, or brown mustard or cold cuts or all of the above.
If you want to make sauerkraut for your kids, always use fresh sauerkraut from the refrigerated section of the supermarket or store. Our advice to use the Bavarian style with caraway seeds and roast it in a pan, don't forget to add some little broken black pepper too.
Bratwurst and beer with sauerkraut are some of the most desired grilled dishes in the world. It's pleasant to cook and so tasty!
Special Tips and Warnings
The only appropriate condiment to add to a brat is mustard. We're not considering the French way or Grey Poupon.
The Stone ground mustard is the most tangible way to achieve authentic bratwurst taste, even the top and best brands like Plochman's two and Inglehoffer prefer to use their favorite stone ground mustards with brat purists.
Never serve a brat on a flimsy, soft hot dog bun. Really don't do it!
We strongly suggested serving Bratwurst on a hard roll only; because you need that crisp and a heft bite to go along with the flow when you sink your teeth into a rightly grilled brat.
Add some water that you use to boil grilled sausages in the frying pan in which you are cooking the sauerkraut;
Grilling grilled sausages is another way to prepare sausage. After boiling the grilled sausage, move it to the grill instead of the frying pan;
Be careful when cutting grilled sausages;
Do not leave sausage or sauerkraut untouched during cooking. The liquid can boil quickly and go you with a ruined meal.
Top Ten Best Bratwurst Sides
Friends, below are some of our favorite Bratwurst side picks to get you started. Joy to you!
1. Sauerkraut
Sauerkraut and bratwurst go together so well and comes with many minerals and vitamins, boiled down with bacon from the Swabian Hall pork! Ready to cook and soft to the bite: only needs to be heated. The perfect companion for sausages, smoked bundles, or pork. It satisfies the classic traditionalist, a can't miss bratwurst side dish.
2. German-way Potato Salad
Typical Potato vegetables with bratwurst are easy meals for adults as well as children. Potatoes with carrots, onions, marjoram, and parsley, all things that everyone likes to have with bratwurst. That's all it takes to make a savory side quickly, efficiently, and also freshly. ANd hard to go wrong with potato salad even any grilled meat. The only minus thing is just mayo.
3. Spaetzle
A dish can make everyone happy. A pure classic German side on a pan that can be made as either an egg noodle or dumpling style dish, have fun friends!
As an accompaniment to a roast or grill brat or leftover sauerkraut, spaetzle is perfect but they are preferred with cheese! With grilled onions, spaetzle is the ultimate comfort food dish.
4. Grilled corn on the cob
Grilled corn on the cob is so simple and yet so tasty. Glaze and off to the grill! It is a very special nod to grill in American-way; it can undoubtedly add a perfect accent to Bratwurst and lots of other grilled cuisines.
5. Cabbage
The red cabbage slaw along with sweet and sour red cabbage is a damn popular tasty dish to the Germanic origins of Bratwurst. Heat the red cabbage and serve the bratwurst with potatoes, sauce, and red cabbage.
6. Baked beans
Baked beans side is one of the best dishes. If you make Bratwurst, delicious roasting remains in the pan. You can fry the beans in it and at the end add the rest of the sausage that may be leftover. Put the beans, onion, and garlic in the not too hot pan. Deglaze later and put the lid on.
7. Not a salad
Seriously, it's also a German way. Remember to do not ever serve salad anywhere near your brats. It is an abomination that must be shunned!
8. Potato Pancakes
If you want to offer your guests an exciting interpretation of a bratwurst, this dish is almost ideal—spicy sausage slices on a fluffy potato pancake. As a rounding off and an additional splash of color, the blueberry wine reduction brings the final kick. Shredded pancakes (or aka Reibekuchen) are potato fritters (cakes) that are very popular in the German menu.
9. Pickled Red Eggs
Once again a German expression that combines eggs and beets and packs a bit of a bite. They are also called pickled eggs in English and are standard in pubs. The name more appropriate because the eggs can be marinated in vinegar, salt, vinegar-salt, or vinegar-salt-sugar brine.
10. Coleslaw
Coleslaw is a right and old aged side that goes so well with many different types of meat. A cold beer goes well with it.
Here are few more tips to making the perfect sides for Bratwurst
The Mushroom Skewers, Spaetzle, Sauerkraut, and Mashed Potato Salad are among our many sides that can serve as an accompaniment to all kinds of Bratwurst.
Some of the below dishes go away from our initial recommendation of not having salad as sides for bratwursts. But they do make some good sides if you are ok to deviate from German way of eating 🙂
Mushroom Skewers
These skewers go perfectly with roasted or grilled brats. You just have to marinate the mushrooms a little in advance so that they absorb the aromas. To coat them well, put them in an airtight bag with the marinade.
Cooking Tip:
To cook them, you have the choice: barbecue, plancha, indoor barbecue, or grill pan.
And for healthy grilling. Mushrooms with 4 to 5 cm in diameter are ideal; cutting in half will reduce a little cooking duration.
If you take small mushrooms, leave them whole. Add at least 5 per skewer. If you are using wooden skewers, consider soaking them in water in advance. This will prevent the wood from burning.
Sauerkraut (Strasbourg or garnished)
Sauerkraut connects best with the brats that are smoked and salted as well as to high-quality cold cuts.
The Alsatian tradition even implied that one could enjoy sauerkraut for several days in a row by simply varying the accompaniments.
Fresh corn salad
A quick and simple salad side with very few ingredients, perfect to accompany grilled brats on the barbecue or for buffet dinners.
Cooking Tips
Wash and cut the radishes into thin strips. Put them in a salad bowl. Drain the can of corn and add them.
Wash and finely chop the chive branches, sprinkle the top. Make a vinaigrette of your choice and add it.
Stir well and serve immediately or cover with cling film and set aside in the refrigerator to serve chilled.
Mashed Potatoes With Bacon, Mushrooms, And Onion
A new take on a classic: mushrooms, onions, and bacon mixed with good mashed potatoes.
You can add this side with your Bratwurst party and can prepare it in just 30 to 40 minutes.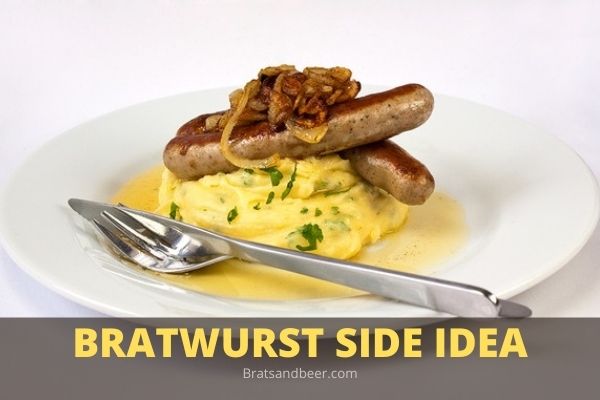 Cooking Tips
Place the potatoes in a large pot of water and let them boiled. Cook until tender, or at least about 20 minutes.
Meanwhile, put the bacon in a large skillet over medium heat and cook until golden brown. Drain on paper towels.
Wipe out the pan, return to the heat and add the oil. Brown the onion and mushrooms to cook until tender.
Once the potatoes are cooked, drain and place in a large bowl. Add the butter and the ranch dressing.
Mash it until soft and smooth by using a potato masher or an electric mixer. You can add the mushrooms, crumbled bacon, and onion.
Fresh Cucumber-Tomato Salad
This is an ideal salad for your summertime meal and also very simple to make. It can serve as an accompaniment to any dish but is particularly good with Bratwurst or Barbecued meat.
To prepare this side, you need to combine the tomatoes, cucumbers, and onion. Add salt and pepper to taste.
Drizzle with lemon juice. Refrigerate and ready to serve!
Green salad with mint
This super easy salad is drizzled with an olive oil and mint dressing, garnished with hearts of palm, black olives, cherry tomatoes, and cucumbers.
Use the lettuce of your choice. You can prepare in just 20 minutes.
Cooking Tips
Combine cherry tomatoes, lettuce, hearts of palm, avocado, black olives, and cucumber in a large bowl; season to taste with garlic salt, and pepper.
Then, rub the dried mint between the palms of both hands and sprinkle over the salad.
Drizzle with olive oil and mix it. Pour more oil if wished. Savor your brats with this ultimate green salad!
Bean, Squash, And Broccoli Salad
Change the green salad and concoct delicious legume (beans) salads with beans, a super cool side that goes well with brats.
This delicious legume salad is just as good served warm as it is hot and it takes a bit of work but enough worthy.
The whole family will love it! Some good wine, boiled beans-salad, and Bratwurst mean heavenly time!
Creamy Macaroni Salad
A colorful and flavorful macaroni salad that features hard-boiled eggs, peppers, and celery, all coated in a creamy sauce.
Bratwurst fans love this side a lot!
Preparation Tips
It hardly needs 15 min cooking: time but needs at least one hour of refrigeration before serving.
Bring a large pot of lightly salted water to a boil and then add the macaroni and cook for ten minutes.
Drain and set aside In a large bowl, combine the eggs, celery, onion, and relish. Combine the salad dressing in a small bowl, sugar, mustard, vinegar, salt, and celery seeds.
Pour over the vegetables, add the macaroni, and mix it;  cover, and refrigerate at least an hour before you serve.
Delicious Carrot Salad
Economical and full of flavor with healthy nutrition value, carrot salad is crunchy and pleases everyone. Perfect to serve with brats at barbecues or your community meals.
Preparation Tip
Combine the grated carrots in a large bowl, peanuts, and cilantro.
Add the lemon juice, salt, and sugar.
Set aside about 10 minutes, until the sugar has dissolved. Garnish with cilantro and serve on the table!
Vegetable flans
Enjoy your vegetables in the form of flan!
They will allow you to obtain a very creamy accompaniment for your roasted brats and will certainly please your kids!
Now get ready to prepare your dinner party with fresh and delicious Bratwurst accompanied by yummy sides!