If you're ready to step up to the brat big leagues and start making your own homemade bratwurst from scratch, you'll need a meat grinder that's up to the task.
Selecting the best meat grinder can be tricky, especially if you're trying to justify the expense to a significant other.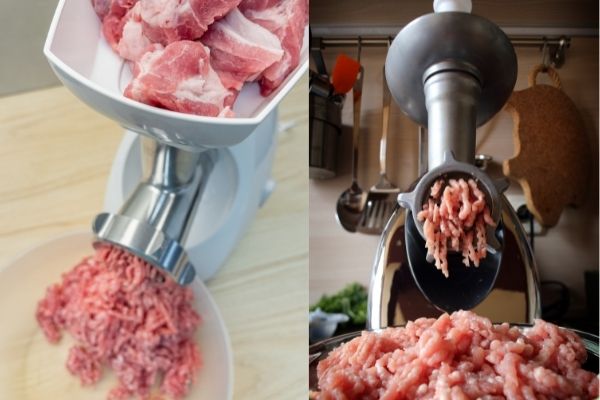 Spend too much and you might regret it.
Spend too little and you might end up with a crappy meat grinder from China that bursts into flames or breaks the first time you use it.
Never fear — we"ll walk you through what to look for in a meat grinder and highlight our pick for the best meat grinder for bratwurst and other sausages.
Tips for Selecting the Best Meat Grinder
Watch the # and wattage: Meat grinders are sold on a number system that refers to the size of the blade/plate assembly.
The STX-3000 Turboforce is one of the most popular hobby meat grinders and comes with a full one year warranty.
Most commercial grinders are #22, #32, or #44, with hobby grinders starting as small as #5.
Generally speaking, look for at least a #12 grinder when starting out such as the STX-3000 Turboforce.
It's more than powerful enough for what you'll tackle at home and anything smaller than a #12 usually is under-powered and disappointing.
Wattage is also important to consider. It's basically the same as horsepower in cars.
Avoid meat grinders with less than 1,500-2,000 watts, even if they seem like a great deal.
"Saving" $50 or less by going with a less powerful grinder often costs you money in the end if you quickly realize you need to upgrade to a more powerful meat grinder.
Avoid hand-crank grinders: We're nostalgic as the next person but there's a reason you don't see farmers plowing fields with mules today.
If you only make a tiny bit of sausage each year and have a quality vintage hand crank meat grinder in great condition, knock yourself out.
But if you want to make ground meat or sausage in any kind of quantities you really don't want to use a hand crank grinder.
It's an enormous amount of hard work and a "nostalgic" task that will quickly turn into a nightmare.
Save Your KitchenAid: You can use meat grinding plates and attachment kits with KitchenAid and other stand mixers but it takes much, much longer to grind meat and can burn out your mixer over time.
Most home mixers aren't up to the heavy-duty task of grinding large amounts of meat over time.
Yes, it's cheaper to just get the plates and kit for your mixer but you'll get far faster and better results with a stand-alone meat grinder — plus you won't risk destroying your mixer.
You'll also have far more control over the grind of your meat with a stand-alone meat grinder and it will be able to handle all types of meats.
Ready to Buy a Meat Grinder?
Like a lot of items, you'll typically get the best deal on a meat grinder by buying one online at Amazon.
Aside from saving money, buying a meat grinder online lets you sort through and read reviews from folks just like yourself.
As you can likely tell, we're big fans of the STX-3000 Turboforce and it's our own pick for the best meat grinder under $200.
Scan some of the reviews and you'll quickly see why.
The Turboforce is a #12 grinder with plenty of wattage — perfect for the home chef just getting started with making their own bratwurst, sausage, and other meat.
The Turboforce also comes with a full one year "fix or replace" guarantee that covers all parts and labor — something you'll never find with cheaper meat grinders.
It also comes with 3 tempered steel plates (fine, medium, and coarse), 3 stainless steel cutting blades, and a 3 piece set of sausage tubes and Kubbe attachment — everything you need to jump right into making bratwurst!
Manual or Electric?
Do you want your meat grinder manual or electrical? An electrical grinder takes up more space, is pretty easy to use, doesn't demand manual work, and costs a little high.
Whereas, a manual grinder has all the opposite traits: it's cheap, requires manual labor, takes less space, and not easy to use.
Stainless Steel Blades
The blades that cut or mince your meat should be made of stainless steel material. This is because the material is rust- and corrosion-resistant. Plus, it's easy to clean, which takes away the need for laborious clean up after every use.
Durability
The durability of the meat grinder plays an important role if you are looking for a long-term solution. Sure, you can get a grinder with a plastic built; it will work fine too.
But, a meat grinder made out of metallic aluminum material isn't going to turn its back on you any time soon. Aluminum doesn't corrode easily, is lightweight, and quite durable as well.
Some more Best Meat Grinder for Homemade Bratwurst – Reviews
This one is an electric meat grinder with a 180-watt motor that minces any type of meat with ease. It comes with a sausage stuffer, so you have the tools that matter.
And, the meat grinder has the capacity of mincing 2.2 pounds of meat per minute, which means you can grind the meat for your requirement now and save (freeze) some for later.
Plus, the meat grinder comes with coarse, fine, and medium grinding options. Importantly, you can attach a sausage stuffer and get your favorite bratwurst at home.
Moreover, the cutting blades are made of stainless steel, so you can easily clean them. The material won't allow micro-organisms or rust to grow on it either, making it safe.
However, it's a little too loud but gets the job done effectively.
Pros
Electric (easy to use)
Large capacity (2.2 pounds)
Stainless steel blades
Easy to clean and durable blades
Cons
While an electric meat grinder is always a better choice if manual work bothers you, a hand crank meat grinder can be desirable as well.
Since there is no electricity involved in the working of this one, it will be an inexpensive addition to your kitchen.
And, although the body is made of plastic material, the quality hasn't been compromised. It will prove to be a long-term cooking companion.
More importantly, the blades are stainless steel; so, you can cut your meat without worrying about the extensive cleanup and ineffective cutting.
The meat grinder also comes with a sausage stuffer, covering you for your homemade bratwurst needs.
And, there is a manual with the grinder, so you can consult it during assembly or use.
However, you will be required to exert manual force. Plus, although the build material is high-quality, it is plastic, so it could raise the question of longevity.
Pros
No electricity bills
Stainless steel blades
Sausage stuffer
Easy assembly and use
Cons
Hand cranked
Plastic build
Although this one minces the meat with up to 350 watts of power, the all-copper noise-reduction engine doesn't let it be very noisy. It works relatively silently, which could be a big plus in an electric grinder.
Plus, the meat grinder produces around 3 pounds of minced meat in a minute. You are not going to need more than that in one go.
The overall build quality is impressive. The stainless-steel blades make it efficient and easy to clean while the aluminum alloy and BPA-free plastic make the body durable and safe for food.
And, in addition to other accessories, the package has got the sausage attachments to cover your need for homemade bratwurst.
Moreover, the parts are easy to assemble and disassemble, making it easy for you to clean them up thoroughly.
However, it may be a little difficult to clean the die plate. And, a powerful electric meat grinder is naturally a little expensive.
Pros
Easy to assemble and use
Stainless steel blades
Sausage attachments
3 pounds capacity
Cons
Difficult to clean the die plate
Expensive
The ALTRA meat grinder is a powerful machine working up to 350 watts to get any type of meat mincing.
This is why you need to take a little precaution and not let the machine run for more than 10 minutes straight.
You can have up to 2 pounds of minced meat per minute with this meat grinder.
Plus, you get several additional accessories with the grinder that will come in handy for other tasks. These include 3 Cutting plates, sausage funnels, and Kibbe attachment.
Moreover, the body of the grinder is composed of aluminum alloy, stainless steel, and high-quality BPA-free plastic. This means no food contamination, ease of cleaning, and fast effective meat mincing.
It's quite easy to disassemble and clean as well. The reverse switch also helps in unclogging the unit.
However, it will produce a little noise as it's an electric machine.
Pros
Easy to use and clean
2 pounds capacity
Sausage funnels
BPA-free plastic
Cons
The BBday Electric meat grinder is another powerful machine on our list of best meat grinders. Featuring a 350-watt motor, there is nothing you need to do to get any type of meat minced.
With the grinder, you get 3 pounds of minced meat per minute, providing enough for the next serving as well.
Plus, the plates come with 3 different mesh sizes: Coarse, medium, and fine meat. And, the sausage funnel allows you to craft the perfect homemade bratwurst.
And, although some plastic material is used, it's BPA-free, which makes it safe for the meat. The remaining parts are constructed of aluminum alloy and stainless steel. They make it durable and efficient.
It's easy to take apart and clean thoroughly. You can even unclog the machine by using the reverse button for easier cleaning.
However, just like most of the electric machines out there, the grinder produces noise.
Pros
Easy to clean and use
Powerful mincing
Perfect for homemade bratwurst
BPA-free
Stainless steel blades
Cons
The Aobosi meat grinder is a pure copper motor with an extravagant 1200-watt power to mince any meat like a breeze.
The good thing is that the blades, as well as the housing, is made of stainless steel material, making it durable.
Whenever meat gets stuck, you have the reverse option to get the process going again.
In addition to other recipes, the sausage kit with this grinder allows you to make your own bratwurst at home.
After easy assembly, the parts of the grinder get a sturdy position for a hassle-free grinding process on the go.
Although you can easily wash all the parts in warm water, they are not dishwasher safe. The stainless-steel cutting blades are also easy to clean.
Another impressive feature is the over-heat protection; so, you have peace of mind while doing the mincing.
Pros
Easy to use and clean
Powerful and efficient
Sturdy build
Stainless steel blades
Overheat protection
Cons
The Altra meat grinder also works on electric power at the rated power of 350 watts. It's powerful, so your meat, no matter the type, will be minced efficiently.
Moreover, the grinder can produce around 3 pounds of minced meat per minute, so you'll have your favorite meat ready within no time at home.
And, the grinder offers three plates with different mesh sizes for coarse, fine, and medium meat cutting. Making homemade bratwurst or sausage won't be a problem with the included sausage stuffer.
Another good thing is, it's fully made of metal, making it durable. The design is easy to assemble and clean as well; the reverse button helps in unclogging the blades. No dishwasher is needed.
However, because the grinder is so powerful, it's quite loud. But, that's not an issue as you don't need to grind for more than a minute.
Pros
Easy to use and clean
Powerful quick grind
3 pounds per minute
Full metal build
Cons
If you are in search of an easy to use manual grinder, this one could be it. Although it requires manual labor, you are getting a cheaper, compact-sized, grinder that won't generate electricity bills.
All you have to do is put any type of meat in the hopper at the top and start turning the crank. The meat will be minced to either fine or coarse size, depending on the plate you choose.
Another good thing is that the blades are made of stainless steel, which is a rust-resistant material and is easy to clean as well.
And, the size of the grinder is small. So, you can use it as a portable meat grinder and take it for BBQs; after all, you just need your hand to squeeze the meat.
Moreover, there is no need for manual cleanup as well. The grinder is dishwasher safe. It also gets disassembled compactly for easy storage.
However, it will require manual labor, and it's a difficult task, especially if you are to mincemeat for a bunch of people.
Pros
Easy to crank
Dishwasher safe
Stainless steel blades
Compact size
Inexpensive
Cons
This one is another manual meat grinder on our list that allows you to mince any type of meat without electricity costs.
Although the grinder doesn't run on electricity, so your energy costs are saved in the long run, it won't be the easiest to operate, especially if you are to grind meat for a gathering.
But, the good thing is, once you get the hang of it, it won't be as hard for you. Plus, you are getting full control over your meat.
It is compact in size, so you can take it out as well. And, it's a manual machine, so you are not investing much upfront either.
Moreover, it has stainless steel blades, which are easy to clean and resistant to degradation.
However, you are not getting a sausage stuffer, you can purchase it separately. And, keep in mind that the grinder will require manual labor.
Pros
Easy to clean
Cheap
Stainless steel blades
Compact
Cons
No sausage stuffer or accessory
Plastic build
This electric meat grinder is one of the most powerful ones on our list today. It grinds any type of meat at up to 200 pounds per hour.
Moreover, a big tray and grinder head allows you to place quite a bit of meat at a time. So, you can grind more in a single go.
The grinder comes with three stainless steel plates with different mesh sizes. So, you can mince coarse, medium, or fine meat for various purposes. You can wash the cutting blades and cutting plates in a dishwasher.
Plus, you get a sausage staff maker, allowing you to make homemade sausages or bratwurst.
However, the grinder seems to have the problem virtually every electric grinder has, and that is the noisiness.
Pros
Easy to use
Durable build
Stainless steel plates
Sausage staff maker
Cons
Final Thoughts
Generally, the best meat grinder for homemade bratwurst would be the one with a durable build, easy operation, affordable price, and stainless-steel blades.
However, this isn't the case for all of us. Some of us may prefer a manual grinder because it's cheaper, smaller, and gets the work done effectively.
Just don't compromise on the blade quality and overall durability.
We have discussed everything you need to know. So, after reading this article, you will be able to land on the right one for yourself and make an informed decision.