Bratwurst and sauerkraut is a perfect marriage for most brat fans — although in Sheboygan you better not pile the sauerkraut on top of your brat as a topping!
The strong, sour taste of sauerkraut pairs up nicely with the juicy goodness of bratwurst.
Add in some popular side dishes like German potato salad or Spaetzle and you'll have a simple, hearty meal that's always a crowd pleaser.
You can serve up sauerkraut in several different ways, from opening a can of store-bought sauerkraut to whipping up your own homemade sauerkraut.
There are many different recipes for bratwurst and sauerkraut and we've listed just a few of our favorites below.
What is Sauerkraut?
Many brat fans prefer an authentic German sauerkraut from makers such as Gundelsheim.
Sauerkraut means "sour cabbage" in German and that's exactly what it is — finely chopped or shredded cabbage that has fermented.
Aside from tasting great with your brats, sauerkraut is actually very healthy for you, along with other fermented foods such as kimchi.
Sauerkraut is high in fiber and the fermentation process promotes good bacteria and probiotics that aid digestive health.
Raw sauerkraut is best if you're primarily eating it for digestive health and you can find several different guides online to making your own raw sauerkraut:
Bratwurst and Sauerkraut
Inglehoffer stone ground mustard is the mustard of choice for many bratwurst purists.
If you're looking for the perfect sauerkraut to go along with your brats, you'll have plenty of solid options.
Many grocery stores stock authentic German sauerkraut from makers such makers such as Gundelsheim and Kuhne and many are available to buy online as well at Amazon.
Bratwurst and sauerkraut recipes also often call for the two to be prepped and cooked together, so even ordinary store-bought brands of sauerkraut will taste delicious when served up with brats.
Be sure that you use a brown, coarsely-ground mustard with any brats that you serve and include it in any bratwurst and sauerkraut recipe that calls for mustard.
A quality stone ground mustard from Inglehoffer or Plochman's is mandatory when it comes to bratwurst so don't skimp on the mustard or cut any corners with cheap yellow mustard.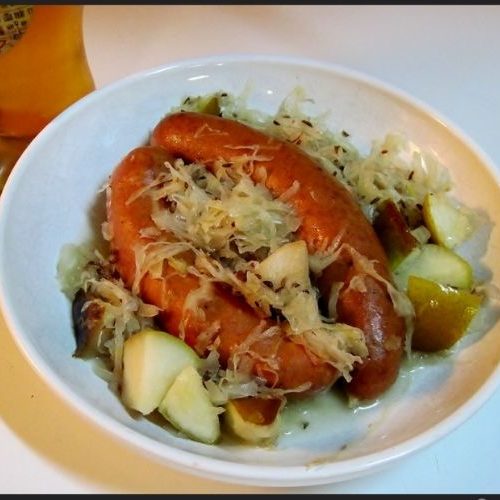 Bratwurst and Sauerkraut Recipe
In this recipe, we'll be combining two ofthe most delicious and mouth-savouring foods that Germany has brought into theworld, and we would know how to cookBratwurst and Sauerkraut.
Ingredients
8

Nos.

Bratwurst Sausages

(2 Pounds)

4

Cups

Sauerkraut

1 full can well-drained

2

Nos.

Chopped Onions

(or ¼ Cup chopped onions )

2

cloves

Garlic

Olive Oil

as needed

Butter

as needed

Spices/herbs:Paprika, Caraway Seeds, Dill, Salt, Pepper

(Again, use it as per your preferences!)

3

Cups

Chicken stock

8

Nos.

Buns

for 8 sausages, or an entire baguette

2

Nos.

Apples

Finely chopped without skin (Optional)

Cheese

For taste (optional)
Instructions
Start by heating the oil on high-heat. Add the Bratwurst sausages in batches as per the size of your utility. Reduce the flame to medium and cook until they brown.

Add the chopped onion, sauerkraut, and garlic cloves. For people using apples too, here's your cue. Caramelize them to the T!

Then add all your spices and herbs. Throw in your paprika, pepper, and caraway seeds. Stir for 1-2 minutes.

Subsequently, add the chicken stock to your mix. You could let it cook from 45 minutes-6 hours depending on the type of flame you're using. Low flame for a longer cook and high flame for a shorter one. Just remember not to overcook your meat!

After your liquid for the mix has evaporated, take the dish out of your utility. On another pan, lightly butter your buns and grill them. This is optional if you don't want to add too many calories!

Once your buns and mixture is prepared separately, place the brat in your bread! Top it off with some dill! Serve hot!
Bratwurst and Sauerkraut can be cooked using the stove and the oven.
1. Stove Cooking
The recipe above can easily be used for stove-cooking. Try using a hollow utensil like a crockpot. This will ensure your mixture simmers well.
All you need to keep in mind for this style of cooking is how you alter the flame as per the recipe requirements.
Initially, adjust it from medium to high to lightly brown the sausage and caramelize the vegetables.
Then, depending on how long you want to cook your mixture for, reduce the flame from high to medium and low. 45 minutes can handle medium flame, however 6 hours would require low flame.
This is to ensure your meat doesn't come out overcooked and chewy at the end of your cooking period!
2. Oven Cooking
An oven isn't used conventionally, but it can reduce your overall calorie intake. Don't worry, an oven-cooked recipe won't compromise on the food quality. You will still be able to enjoy every bite. Follow the procedure given below:
Crank up your oven to 400 degrees Fahrenheit or 205 degrees Celsius for pre-heating.
Use a pan/tray and line it up with parchment or butter paper. You could throw it in the oven while it preheats. Many have commented on how that will give your meat the extra edge.
On the same tray, add your brats and veggies. You could lightly drizzle them with olive oil, spices and herbs. Once that's done, put the tray back in the oven.
The brats should cook for a duration of 20 minutes. 10 minutes on either side. Remember to flip it once you reach halfway. Do the same with the vegetables.
Once the timer goes off, let your meat rest for sometime. Use a thermometer to check how well it's cooked. The ideal temperature should be 160 degrees fahrenheit or 71 degrees celsius.
Pan heat your butter buns and add the mixture to them. Enjoy!
Bratwurst and Sauerkraut Recipes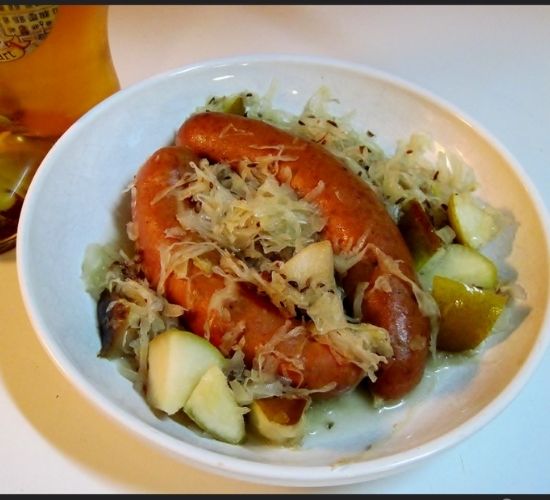 Below are a few of our favorite brat and sauerkraut recipes to get you started. Enjoy!
FAQs
Now that we're clear of the ingredients, cooking types, and recipe, let's answer a few commonly asked questions. These will help you understand the nature of this dish a bit more prominently.
1. How many calories are there in the Bratwurst and Sauerkraut dish?
If you are really calorie conscious, make sure to have done a workout before taking a bit of that moist brat!
Each sausage itself has around 530 calories. Combine that with the other ingredients and you'll easily get an intake of 700-800 calories depending on your quantity.
2. How long should I cook it in the oven?
Typically, as mentioned above, a brat is cooked for 20 minutes. However, you could cook it for less/more time depending on how you like your meat. Rare, medium rare, or well done- suit yourself!
3. How to cook it with beer?
This is one common request. In order to cook the dish with beer, you must add it when you're going to add your stock, spices and herbs. It goes well with stove-cooking.
For people with an oven, it's a little touch to get that liquid soaked up especially since there's parchment paper on your stray. Nonetheless, there's no harm in lightly drizzling a few spoons of beer on your brats!
4. What goes well with the dish?
There are a number of side dishes that go well with brats. You could have corn on the cob, cheesy potato wedges or fries, potato salad, roasted or grilled vegetables, baked beans, creamy cucumber salad to cut the richness! The options are endless!
5. How to serve Bratwurst and Sauerkraut?
Typically, the dish is served in buns. You could choose to make that addition or leave it at the sausages and the mixture. Add a few side dishes as per your guest list, or consume it as it is! You could always put in more sauerkraut cuts!
This was our take on a Bratwurst and Sauerkraut dish! Hope you try it very soon!
We truly care about the taste you bring to the table after knowing how to cook Bratwurst and Sauerkraut.
It's got an intense taste that will throw you in heaven for some time! Happy Eating!