Bucyrus, Ohio is home to one of the world's largest bratwurst festivals each year.
Brat fans in the U.S. can enjoy several different bratwurst festivals each year, with the Bucyrus Bratwurst Festival, Brat Days festival in Sheboygan, Wisconsin, and Brat Fest in Madison, Wisconsin a few of the largest.
As you might expect, you'll find plenty of bratwurst to eat at big brat festivals as well as live music, contests, games, activities for the kids, and arts and crafts and other merchandise for sale.
The big festivals often compete each year for various titles such as most bratwurst consumed, with some seeing hundreds of thousands of brats eaten over the course of the festival.
Festivals such as Brat Fest also double as fundraisers, with money raised going to local charities and non-profits.
While many of the big brat festivals are held in the heart of brat country in Wisconsin and Ohio, you'll find some big festivals in other locales such as Wurstfest in New Braunfels, Texas.
List of Bratwurst Festivals
Bratwurst, a very famous German dish, has become a worldwide sensation for a few decades. America is nowhere behind in celebrating bratwurst and the tradition it brings with it. Following are the lists of festivities that take place every year:
Beer festival
Parades
Pageant competitions
Live auctions
Street plays and dramas
Art and craft competitions
Best Brat Bike Ride
5k Colour Run
Donation and charity and more…
Bratwurst Festival, Ohio
Ohio, a state in the Midwestern region of the United States, is proud to showcase its love for bratwurst by holding bratwurst festivals at least once a year.
Bucyrus, a city in Ohio, organizes various events, mostly during fall, to celebrate their love and joy for this delicious dish. Read further to know everything you need to before you make up your mind to be a part of this festival.
Bucyrus Bratwurst Festival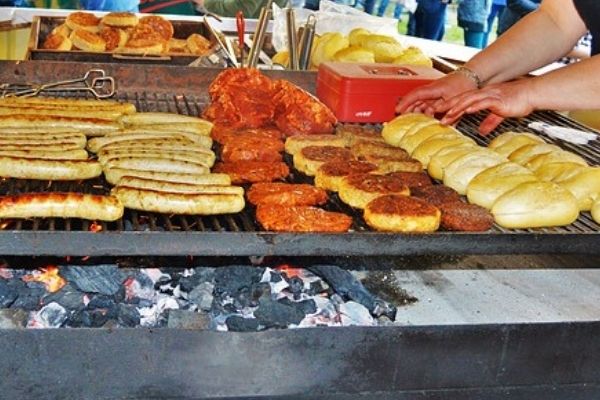 The city of Bucyrus dedicates 4 to 5 days to fully soak in the energy of this festival. Bucyrus is also called "The Bratwurst Capital of America". The air is filled with children screaming with joy, adults chugging beer and the whole city leaving the world behind and dancing to the beats.
When we say people, we are talking about thousands and even lakhs from around the world that are willing to enthusiastically participate in different events. People consume tons of bratwurst and gallons of wine.
Here is some key information you would want to remember!
Directions to Bucyrus Bratwurst Festival
330 S Sandusky Avenue, Bucyrus, Ohio, OH-44820
This is where the main events are held but honestly, the festival is widely spread. Don't worry about getting the right location because there are officials ready to help all the time!
The parade starts at the intersection of N.Sandusky Avenue and ends at E.Center street, right in front of the Bucyrus hardware store.
Hotels near Bucyrus Bratwurst Festival
From cheap Airbnb's to lavish hotels and inns, there are wide ranges of accommodation Bucyrus offers to enthusiastic tourists. Below are some of the hotels that customers have spoken well of.
HideAway Country Inn
Details to get in touch with:
Details to get in touch with:
Details to get in touch with:
Contact: +1 800-805-5223
Where to get Beer at Bratwurst Festival?
No bratwurst festival is even half complete without beer. Some festivals, like in Bucyrus, have a whole chugging contest for adults.
Bucyrus organizes a beer bratwurst festival and even if you don't like beer, the energy of the event will make you go crazy!
You can get your favourite kind of beer at the beer garden event that takes place at 217 South Popular Street, Bucyrus. You will also find a lot of street outlets selling beer.
Take part in the parade and make notes of all the outlets you want to visit.
Bratwurst Festival, Boulder City, Nevada
Boulder City, Nevada has been holding bratwurst festivals for quite a while.
This time it's a bit different! Boulder City has taken a brave step to hold its annual brat festival online this year because of the COVID-19 pandemic.
We know it wouldn't be the same but hasn't the entire year been this way, indifferent?
Usually, Boulder City arranges their festivities on weekends starting on Saturday with brat grillers. In this event, people of German origin, as well as skilled brat grillers, come together.
They open up stalls and grill brats right in front of you. The smoky flavour makes it hard to resist gulping down a few sausages.
Boulder city makes it a point to organize, 'The Wurst Dam Car show' wherein car enthusiasts bring out their cars and put on a show.
They distribute chocolates and gifts to young children too! The car show mostly runs from 11 in the morning to 3 in the evening.
People organize live auctions and charity events too. These tend to last for an hour or two, from 4 pm to 6 pm.
Bratwurst Festival, Texas
Texas, a state in the United States, holds brat festivals at least once a year. Usually, the festival is planned out in the month of October or November. There are two cities that celebrate the bratwurst festival with great enthusiasm and splendour. The two cities are:
Fredericksburg
The brat festival was lately arranged in and around Bankersmith Hall on 7905 Old San Antonio Road.
Tickets to book your seat are on sale from October 9 to October 11.
New Braunfels arranged their own brat festival on 120 Landa Street, New Braunfels, TX-78130. For information regarding registration and other inquiries, you can email them at [email protected] .
Last year, they planned their fest for the month of November.
Bratwurst Festival Wisconsin
Wisconsin, a state in the Midwestern part of the United States, has a pretty early bratwurst celebration compared to other city celebrations.
Wisconsin, just like Texas, has two major cities that celebrate bratwurst. These two cities are Madison and Sheboygan.
Madison, the capital city of Wisconsin, is well known for its majestic way of celebrating bratwurst festivities. Sheboygan is known as the 'Bratwurst Capital of the World'
Bratwurst Festival in Madison, Wisconsin
Madison is known to have organized one of the world's largest brat fest. Although the city was unable to organize one in the year 2020, they still hope to have a chance this year around.
From local parades to children's fancy dress competitions, Madison includes everything and anything you can imagine of. From beer chugging to skits and plays performed by school children, there is something for everyone.
The music and lights will make you leave your chair and get up and dance. It's truly a sight to see and an event to be in.
Bratwurst Festival in Sheboygan, Wisconsin
Sheboygan celebrates the brats fest that became very well known in and around Sheboygan in over 3 days each year prior to the event.
Carnivals are a big thing there and don't you forget about the juicy bratwurst. People participate and come up with their own versions of bratwurst. Some combine it with cheese and some with potatoes. Some use pork and some beef.
Circuses are arranged and petting zoos are opened for children to experience learning and enjoying at the same time. Candies and sugar drinks are a must at this festival.
Rock bands perform live. Stand up comedies are organized. Charity events have made their comebacks.
Bratwurst BBQ and Mulled Wine Festival
This event is one of the most anticipated ones! Imagine having BBQ sausages sweetened with mulled wine, yummy!!! The best time for this event to take place is during November (fall).
Hot grilled and smoky brats are turned into sweet delicious sausages by adding apple cider and honey. The music and chatter of people make it a special experience.
Best Brat Bike Ride
All the bikers in the city dress up in leather pieces and roll out their bikes on the streets.
The blasting noise of the bullet engines turns on everyone's heads. You would find them munching on hot dogs and chugging jugs of beer.
They offer bike rides to curious children and distribute gifts and candies too. You will also find some riders trying out arts and crafts which is very unusual to see on a daily basis.
Baking competitions
Baking competitions are a rare one to witness but they do happen in some festivals.
Children design muffins using their favourite frostings and sugar candy.
The baking competition becomes a brutal one when adults compete with each other. They only aim for perfection!
Baking competitions not only include cake baking but also bratwurst baking. Pour a can of beer in a pot, warm it and soak brats in it for 20-30 minutes.
Turn the flame at medium-high and cook until the sausages give off juice. Competitors use baked bratwurst in hot dogs, burgers and even with pizzas and pasta!
Dramas and plays
Children and adults start practicing dramas and skits a week prior to the event. There is dancing and singing. Children show off their acting skills and receive gifts and certificates of appreciation.
They adorn beautiful handmade costumes and confidently walk up to their mics to recite their poems and lines.
Bratwurst Festival Parade
In almost all bratwurst festivals, there are parades organized for adults and young children. These parades can be as short as passing by four street junctions to as long as being a mile or two. Parades give everybody a tour and a basic idea as to what to expect.
People dance to music and play instruments. There is a band that leads the parade and hundreds of mascots entertaining the crowd. There are clowns juggling, gymnasts showing off their talents and hearts pounding to the beats of drums.
There are two types of parades organized by the city of Bucyrus. They are
Bucyrus Bicentennial Parade
These parades last for 2 to 3 hours maximum. The theme of the parade for this year is 'Bucyrus Bicentennial!'. The parade is planned to start, around, in the month of July on the 3rd from 6 pm onwards. For further inquiries regarding timings email them at [email protected] .
Bucyrus Bratwurst Parade
The theme for the parade is the 'Bucyrus Brats Parade'. These parades, also, last for 2 to 3 hours. For the year 2021 the schedule is as given below:
19th August – 7 pm
20th August – 7 pm
21st August – 4 pm
Smiles on everyone's faces while waving their city flag. People dressed in funny attire. You are definitely missing the fun if you are not a part of the parade.
Bratwurst Festival Pageant Competitions
If you think bratwurst festivals are meant only for adults and are of very little fun for children, you are deeply mistaken!
In almost all the bratwurst festivals there are pageant competitions organized. There are judges who test the beauty and brains of the children and crown their titles.
Titles like junior princess, princess, runner ups, and the queen are given to deserving children who take part in the competition. It is not all that easy to win the crown.
High schoolers and middle schoolers are interviewed by a panel of judges. They are given points on the basis of stage presence, intellectual and environmental and social awareness.
The title Miss Congeniality is a title won by internal voting. This means that contestants vote for each other and the judges decide the final winner.
The queen is given the opportunity to represent the city when visiting festivals of other cities. She gets the chance to know how other cities celebrate similar kinds of festivals and can bring them to her city's festivals too. 
Bratwurst Festivals Schedule for 2021 & 2022
Bratwurst Festival, Ohio
Dates: 19TH August 2021 to 21st August 2021
Venue: Bucyrus City Hall, 500 S.Sandusky Avenue
11 am-11 pm each day.
Bratwurst Festival, Wisconsin
Date:
May 22nd: Brat Barn
From 9 am to 6:30 pm
From 9 pm to 8 pm
From 5 pm to 9 pm
May 27th: Live Performance
From 6 pm to 11:30 pm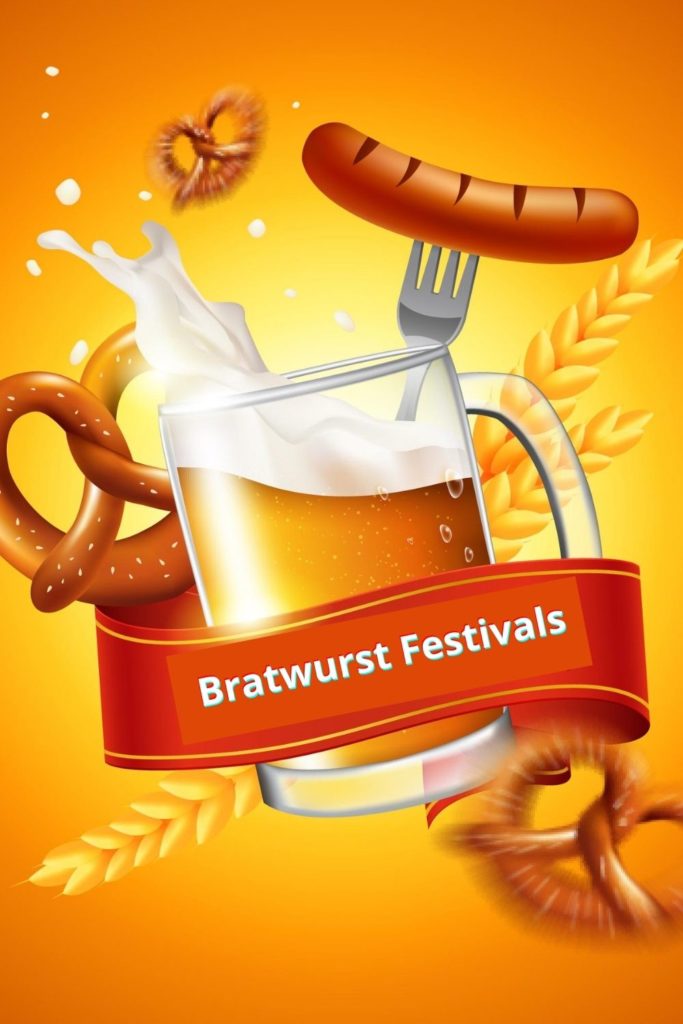 2015 Bratwurst Festivals
Brat Fest: May 22-25, 2015, Madison, WI
10th Annual Michigan Beer & Bratwurst Festival: May 23, 2015 – Thompsonville, MI
Poconos' Wurst Festival: July 18-19, 2015 – East Stroudsburg, PA
Brat Days: July 30-August 1, 2015, Sheboygan, WI
Bucyrus Bratwurst Festival: August 13-15, Bucyrus, OH
Wurstfest: November 6-15, New Braunfels, TX
Conclusion
The pandemic has surely ruined our plans for the year but as humans, all we can do is pray and hope for the best.
The parades and carnivals will bring out a different side of you. Interacting with people and getting to know their lifestyle is all part of the festival. Though we might speak different languages and believe in different religions, festivals like these help us understand the importance of human connection.
Bratwurst is for sure a German delicacy but look at us all so interested in being part of it. We hope this article has provided you with a realistic picture of ways you can get yourself into one of the many festivals.
Go and arrange a trip with your friends and family to create unforgettable memories!