Bratwurst isn't just delicious but it is incredibly flexible and can be cooked in many different ways in bratwurst recipes.
Most folks are familiar with the standard approach — simmer brats in beer and grill them to perfection — but you can pan fry brats, smoke them, and cook them in the oven with great success.
Below you'll find some of our favorite bratwurst recipes to hopefully inspire you to reach new heights of brat goodness.


The first section has recipes to prepare brats in different ways — such as cooking bratwurst in a slow cooker, bratwurst casserole, and bratwurst pasta.
The second section section focuses on brat recipes for those interested in making their own homemade bratwurst from scratch using a meat grinder and sausage stuffer.
Bratwurst Recipes
WisconsinMade.com specializes in shipping genuine Wisconsin brats to every U.S. state.
If you're ready to expand past the basic brat — meat, hard roll, and stone ground mustard — you've got plenty of delicious options.
First things first, though. A well-built house needs a good foundation and any decent bratwurst recipe starts with a great brat.
Kewauskum, Klement's, Carle's, and Usinger's make amazing brats but you may be out of luck if you don't live in the Midwest as far as finding them.
WisconsinMade.com is one of the few online retailers that sells and ships genuine Wisconsin brats and not some cheap, bland bratwurst knock-off.
Once you're armed with your brats — or have made your own from scratch — it's time to tackle some of the tasty recipes below!
Homemade Bratwurst Recipes
Always slather your brats with a coarse stone ground mustard such as Inglehoffer.
If you're the hands-on, DIY type that's looking to grind your own meat for homemade brats, we've got you covered as well.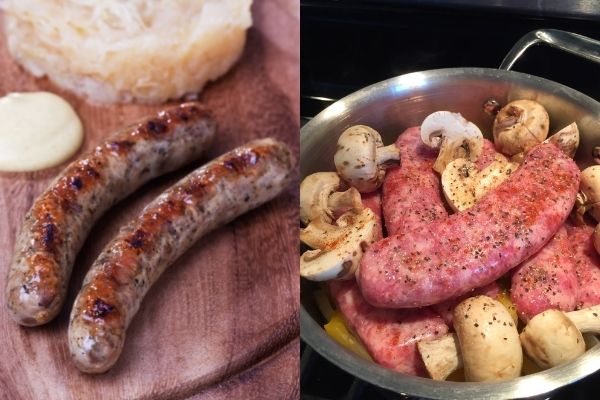 Buying a meat grinder and sausage stuffer may be expensive initially but you can actually save significant money in the long run by making your own brats.
Aside from saving money, you'll also have absolute control over the ingredients and will know exactly what's going into your brats.
Many different types of meats and sausages can be used in your bratwurst recipes, so experiment to see which one you like best or experiment to create your own.
The focus here is on brat recipes but the same principles can be applied to any sausage you'd like to make, including breakfast sausage and summer sausage.