Cooking brats is a sure fire way to make a lot of new friends in a hurry!
Cooking brats offers up the best of both worlds: you end up with delicious brats in your belly with a very minimal amount of effort that even the laziest chef can manage.
Even better? Beer is a key ingredient!
Most recipes call for a long list of ingredients. This recipe does not.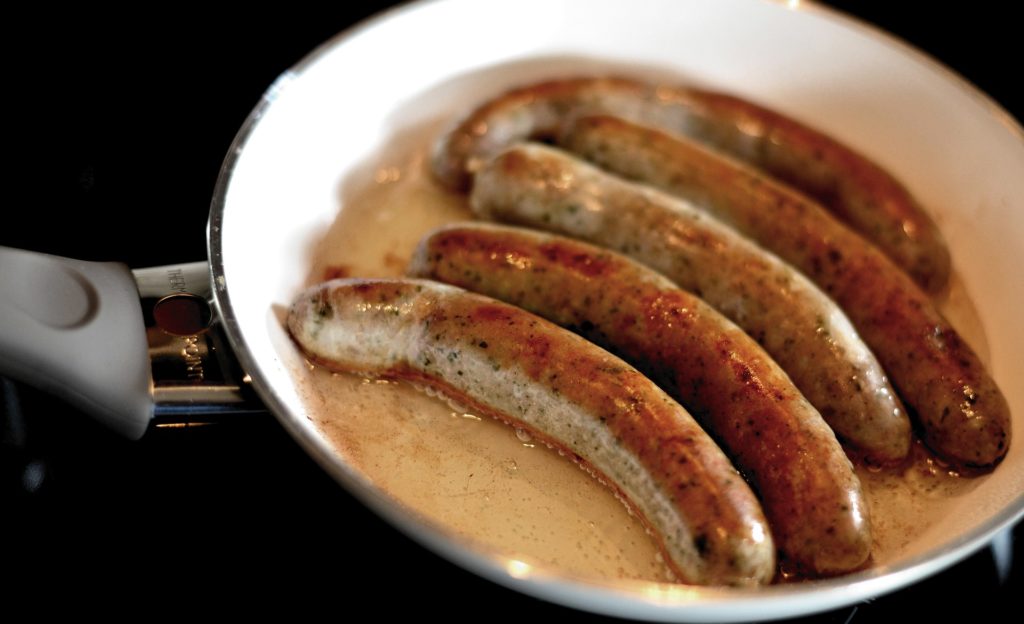 Here's your ingredient list: brats, beer, and two onions.
No, seriously, that's all you need for tasty brats. You can add some spices if you're wild and crazy but that's up to you.


Can't Miss Instructions for Cooking Brats
1. A great tasting brat starts with a fresh brat. Try to get your brats from a local butcher, farmers market, meat packer, or at a large supermarket or specialty store that makes their own sausage. Companies like Usinger's will also sell and ship their amazing brats to you from Milwaukee if you live in a brat wasteland with no decent fresh, local options when cooking brats.
2. If you live in said brat wasteland and need brats immediately and can't wait for some to be shipped to you, Johnsonville is probably your best bet as far as a brat that you'll find in most grocery store.
3. You'll need a six pack of beer. I know, the horror! Pretty much any beer will do but if you want to be a strict traditionalist when cooking brats your best bet will probably be Leinenkugel's, as Leine is now available at many stores around the U.S. Berghoff is a great choice if you can find it and PBR and Old Style will do in a pinch and keep your Milwaukee/brat street cred intact.
4. You're going to boil the brats first in a 50/50 mixture of beer and water. So get enough beer to make that possible — plus whatever you need to keep the chef well-fueled during the process. Any beer will do but keep in mind that a lot of it will not reach your belly when cooking brats in beer.
5. Pick a big enough pot or pan to boil your brats and add equal parts beer and water until the brats are covered in liquid. Slice your onions in big, thick slices and add to the pot. Bring it to a brisk boil.
6. Once it's rocking and rolling, turn down the heat to a gentle boil. Cooking brats in your concoction will take about twenty  minutes, so you'll have a little downtime here. Go prep your grill and enjoy a beverage.
7. Did he say grill? Yes, yes I did. Boiling the brats will do almost all the heavy lifting as far as actually cooking brats but you really need to finish them off on the grill for about ten minutes to get that amazing carmelized char and flavor that makes a perfect brat.
8. After about twenty minutes in the pot, transfer brats and onions to the grill. A nice medium heat is best so you don't need roaring heat on the grill. Remember, your brats are basically cooked when you put them on the grill so don't go too nuts here.
9. If you have to, you can skip the grill and finish the brats off in a hot pan or griddle on the stove. This isn't recommended and brats traditionalists might come after you with pitchforks but sometimes you have to do what you have to do if no grill is available.
10. Remove from grill and serve your amazing, tasty brats on serve on rolls. Many prefer a crusty hard roll but pretty much any bread will do. Or just eat them with your hands as fast as you can stuff them in your face. It's up to you — there's no wrong way to eat a brat.



Gifts for Brat Lovers
Real brat connoisseurs insist on authentic stone ground mustard such as Inglehoffer!

Cook perfect brats, hot dogs, and cornbread over a fire with this cast-iron cooker from Rome Industries!

The STX-3000 Turboforce is the ultimate meat grinder for the brat lover looking to make their own bratwurst.