Learning how to cook brats like a pro is actually very, very easy.
It's easier than you might think to learn to cook brats like a pro.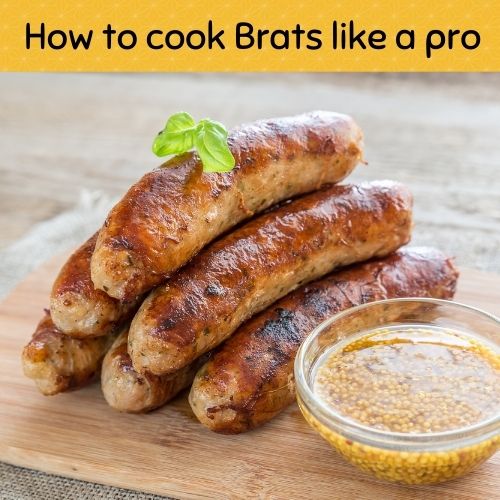 Brats are easy to cook and pretty forgiving as far as meats go and you don't have to worry about plating and an elaborate presentation.
Slap your brats on a hard roll, slather on some stone ground mustard, and you're good to go!
We'll be discussing grilling brats below but don't forget that plenty of great bratwurst recipes call for cooking brats in your oven or on the stove top, with many great options available.
But enough jibber jabber — let's jump right in and learn how to cook brats!
How to Cook Brats Like a Pro
The most important step when cooking brats is the most basic: always start with a good brat.
Kewauskum, Klement's, Carle's, and Usinger's make amazing brats but it can be difficult to find them if you don't live in the Midwest.
WisconsinMade.com is one of your best bets to buy genuine Wisconsin brats online if you need some shipped to you.
You can also make your own brats, which actually isn't as daunting a task as it might seem.
You'll need to invest in a good meat grinder and sausage stuffer but if you cook brats often you'll quickly recoup those costs.
Beer + Brats = Awesomeness
Brats and beer are the perfect combination, in more ways than one.
One of the most important parts of learning how to cook brats is to keep an important principle in mind: protect thy juices.
All of the amazing taste of bratwurst is locked in the casing that the meat and spices are stuffed in.
If your brat is punctured or splits while cooking, all of the amazing taste dribbles out and you'll be left with a dry, tasteless husk of a brat.
Skilled brat chefs are able to walk the delicate line of cooking bratwurst thoroughly and getting the perfect grilled char while still keeping their brats juicy, moist, and plump.
Their secret? Beer, glorious beer.
Simmering Brats in Beer
Cooking your brats in beer before grilling is the best way to do most of the heavy lifting of cooking them while retaining all the juices and flavor.
Simply slice up a few onions and add equal parts beer and water until your brats are covered in a pot or pan on your stove.
Bring them to a boil but watch carefully and turn down the heat immediately after boiling, so that they simmer on a very low boil.
Simmer your brats for about fifteen minutes, then finish them off on the grill on low to medium heat.
The beer bath will cook your brats, so you'll only need to grill for about five to ten minutes — just long enough to get a nice, crisp char.
Be very carefully when transferring your brats to the grill and take care not to puncture the casings.
Once your brats are done on the grill, serve immediately on a hard roll with stone ground mustard.
Congratulations! Now you know how to cook brats like a pro!