We're about to let you in on a tasty, delicious secret.
Learning how to cook bratwurst in beer is so simple that you can learn all the steps in under two minutes.
Guaranteed.
And your ingredient list is ridiculously simple — brats, beer, and two onions.
That's all you need for amazing beer brats.
It's not magic or some sort of Midwestern voodoo.
Bratwurst is incredibly easy to cook if you follow the few simple steps outlined below.
How to Cook Bratwurst in Beer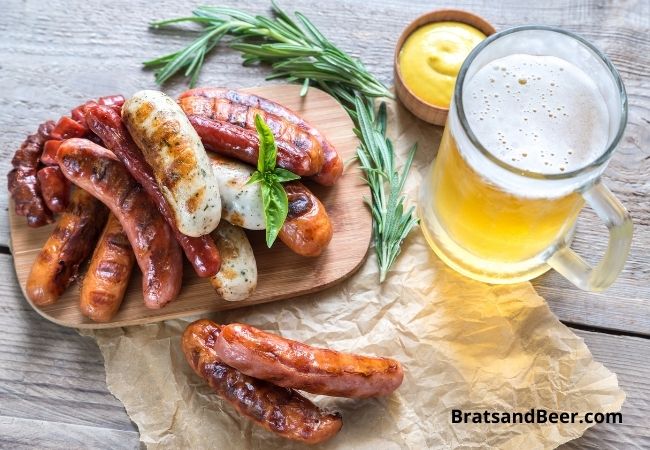 Not everyone is lucky enough to be able to hop in their car and drive over to pick up some brats from Usinger's or Carle's.
WisconsinMade is one of the few online retailers that ships genuine Wisconsin brats throughout the U.S. but you'll need to plan ahead and be sure to buy enough to satisfy your brat cravings.
If your only option is the pre-packaged meat aisle at a chain store, Johnsonville is usually your best bet.
Your ingredient list may be simple but it's important that you start with a solid foundation: your bratwurst.
Ingredients
6 bratwursts
1 ½ cup beer
1 medium onion, sliced
½ tsp garlic powder
1 tsp red chili flakes
¼ tsp black pepper
½ tsp salt
Cooking Up Beer Brats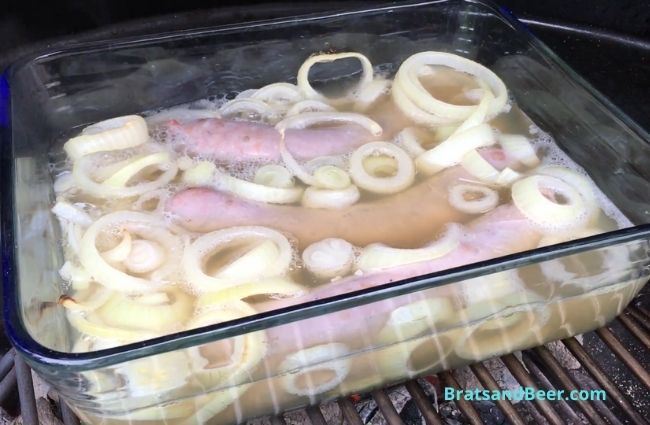 Step 1: In a pot, add beer and onions.
Step 2: Place the pot on high heat and bring it to a boil.
Step 3: Once the beer starts simmering, add bratwursts, garlic powder, chili flakes, black pepper, and salt and mix well.
Step 4: Reduce the heat to medium and let the bratwurst simmer for 10 minutes on medium heat.
Step 5: Remove the bratwursts from the pot and continue to cook the onions for 10 minutes until the beer is reduced.
Step 6: Preheat the outdoor grill or a grill pan.
Step 7: Grease the grill and place the bratwursts on it.
Step 8: cook the bratwursts on all sides until they get a nice golden-brown color.
Step 9: Serve the bratwursts hot and top them with beer cooked onions.
Step 10: You can also serve bratwursts in buns and top them up with your favorite relish.
Many brat enthusiasts will grill brats after the beer bath — although some insist on reversing the order and grilling first then simmering in beer.
If you do grill your brats, only grill them for about 5 to 10 minutes on a low to medium heat, just long enough to get a good char.
They're essentially cooked at this stage so too long on the grill or too high of a heat can cause them to overcook and dry out or burst.
You can also finish off your brats in a pan or even put them in a cast-iron bratwurst cooker and cook over a fireplace or camp fire!
The Best Beer for Cooking Brats
When cooking brats, the most common question that comes to mind is what the best beer is for cooking brats?
With the right guideline, you can choose the best beer for cooking tasteful brats.
The most commonly used beer for cooking brats is the pilsner or lager style. These include Coors Lite, Miller Lite, bud light, or PBR.
There is a reason why these beers are most preferred and widely used.
The best thing about lager is that it doesn't overpower the brat's original taste. It only enhances it.
So, as you cook brats in beer, you won't have to worry about messing its taste up. The beer will give the brats a crisp hint of its own.
In addition, Cooking with a lager is super easy. You don't have to stand beside it frequently to save the beer from boiling over and spilling. Because lager doesn't boil over at all, you will have a clean stove at the end of the cook.
You'll encounter some debate as far as the best beer to use when learning how to cook bratwurst in beer but there's really no bad choice so don't stress the decision too much.
Since you'll be simmering your brats in beer, a lot of that six pack won't reach your belly.
Some people purchase accordingly and buy cheaper beer for cooking the brats, while others insist that craft beers impart their own unique flavors to the brats and should be used when learning how to cook bratwurst in beer.
Most cooks enjoy a beverage or two while cooking their brats, so keep that in mind as well when grabbing a six pack (or more).
Some traditionalists insist that the only acceptable beer to cook brats in is Leinie's, with only stone ground mustard used as a condiment.
Should you boil brats in beer before grilling?
When you read the recipe that says boil the beer and put brats in it and let it cook for 10 minutes, note that it never means boiling the brats.
This is probably the most significant mistake people make when cooking bratwursts in beer. They take simmering for boiling. And as a result, the brats will be dry without any flavor.
So how to cook bratwurst in beer? The best way is to boil the beer first and then reduce the heat so that it only simmers.
As you add brats into the simmering beer and let it simmer, it soaks up all the goodness of the beer, retains its meaty taste, and stays juicy and warm.
Also, remember that boiling brats can also be dangerous. When boiled, the brats can burst open. That will not only waste brats but can also cause an accident, and hot boiling beer can splash on your body if you are standing near the stove.
The tiniest difference is the cooking technique and temperature of a beer can make all the difference in the taste of the brats.
So, the next time you are cooking brats in beer, don't forget to lower the heat to get the best possible taste out of the brats.
Why do you cook brats in beer?
You might think that people prefer to cook brat in beer before grilling to add depth of flavor to it. But the truth is there is a lot more to this story.
The main idea behind cooking bratwurst in beer came from the grill masters who prefer to simmer it in hot beer so that it is cooked through.
Therefore, as they grill the brats, they don't have to worry about undercooked brats.
Simmering brats in beer ensure that the brats are cooked evenly and through. They are grilled only to give it a nice golden-brown outside.
Second, cooking bratwurst in beer makes with soft and juicy inside.
Brats soak up enough beer to retain its juiciness. So that when you grill them, they won't dry out at all. And you can enjoy the juicy and meaty flavor of brats.
Third, and most importantly, brats are prone to bust open when in contact with high temperatures.
So, as you simmer them in hot beer, the chances of them busting open are reduced considerably.
You also have to keep in mind that if you boil the brats, they will burst. So, a big No-No to boiling and a big thumbs up simmering them to make them more pliable.
How long do you soak brats in beer?
For quick preparation, the ideal time to soak brats in beer is when you boil the beer and lower the heat to let it simmer, and then add the brats; if this method simmering it for 10 to 15 minutes is more than enough.
Most people don't keep track of the time. Instead, they keep an eye on the color of the brat. If the brats turn white, it means they have been cooked in the beer for quite some time, and that's enough.
However, most people make the brats sit in beer for as long as 24 hours. They not only boil them in beer but soak it as well. It is like a beer-marinate.
If you are willing to try this way, you can marinate them for any time between 6 hours to 24 hours.
The choice is yours! Now you might be thinking, why to marinate them in beer when you are already planning on boiling them?
Well, it is not compulsory. It is just a way some people like to make brats. Marinating it in beer intensifies its taste.
The brats will turn out to be juicers this way. But, if you don't have that much time, you can stick to the boiling method, and it will turn out just as fine and delicious.
Try this super simple and easy recipe today, and learn how to cook bratwurst in beer. But don't forget to follow the simple rules to make the delicious, meaty, flavorsome bratwurst!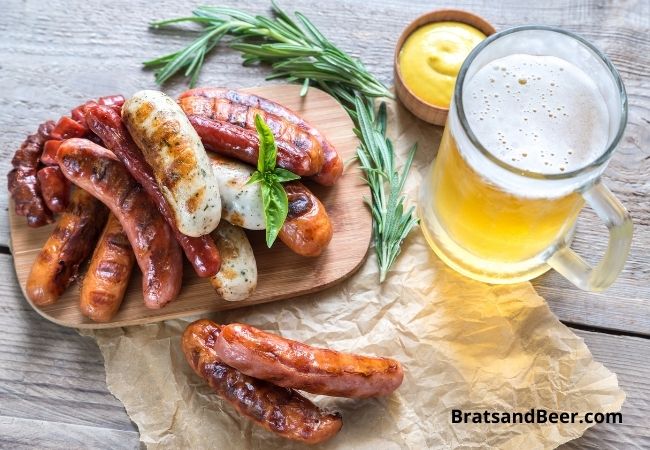 How to Cook Bratwurst in Beer
Delicious meaty brats soaked and cooked in beer and finished off in grill is perfect sight. The meaty, rich flavor infused with beer and onions is a treat for your taste buds.
Equipment
Outdoor Grill or Indoor Grill Pan

A medium-sized pot
Ingredients
6

Bratwursts

1 ½

Cup

Beer

1

Medium Onion

Sliced

½

tbsp

Garlic Powder

1

tbsp

Red Chilli Flakes

¼

tbsp

Black Pepper

½

tbsp

Salt
Instructions
Put your brats in a pot that comfortably holds them and add equal parts beer and cold water until the liquid covers the brats completely.

Slice your onions into large sections and toss them in, turning the heat on your stove to high to bring the pot to a boil.

Don't let them boil very long, as our goal is to gently simmer your brats in beer. After it begins to boil turn the heat down to a very low boil and let it simmer for about 20 minutes.

After they've simmered, you'll have several options as far as how to finish off your brats. You can choose to grill the brats or serve them with sides.