Learning how to cook bratwurst on the grill isn't difficult at all and is a great life skill to possess — especially if you have hungry friends!
Grilling brats isn't rocket science and we'll walk you through the basic steps below to get you up and running.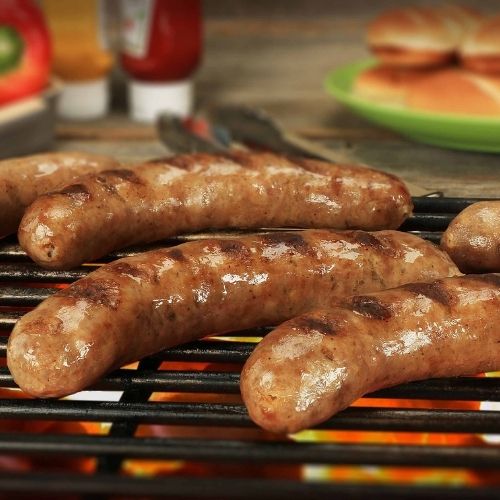 You also don't need a lot of fancy tools or ingredients. Grab some brats, some beer, a few onions, and fire up that grill!
There are many recipes and ways to prep and grill brats. Below you'll learn our favorite "tried and true" recipe to get started with how to cook bratwurst on the grill.
How to Cook Bratwurst on the Grill – the Basics
WisconsinMade specializes in shipping genuine Wisconsin brats to every U.S. state.
Great grilled brats start with a great brat.
Always try to get local fresh brats — like Usinger's or Carle's if you're blessed to live where they're available — or order brats online from WisconsinMade, which is one of the online retailers that ships real Wisconsin brats throughout the U.S.
If you're stuck in a brat desert, Johnsonville brats are perfectly acceptable and can be found in most major grocery store chains.
Once you've secured your bratwurst, you'll also need a six pack of beer and two large white onions.
Don't get the grill going just yet, as we'll actually be starting our how to cook bratwurst on the grill journey inside first, by starting your brats in a beer bath on the stove.
Beer First, Grill Second
You can also whip up some amazing brats with a cast-iron bratwurst cooker instead of a grill!
Put your brats in a pot and add equal parts cold water and beer until they're just barely covered in liquid.
Slice your onions and add to the pot and bring it to a boil, but keep a close eye on it.
As soon as it boils, turn the heat back down to a very low boil, more of a simmer.
Cooking bratwurst at too high a heat on the stove or grill can cause the casings to burst, a travesty as all the juicy goodness spills out and leaves you with dried, tasteless brats.
Simmer your brats for about 20 minutes and get your grill ready towards the end of that time, turning it to a low to medium heat.
Transfer your brats to the grill. You can discard the onions or add them to foil or a basket to grill them as well to serve later with your brats.
Your brats will need very little time on the grill, typically just 5 minutes to 10 minutes.
They're fully cooked and delicious at this stage — just grill them enough for a little char and that zing you get from grilled meats.
Voila, you're done! You can now officially cross off knowing how to cook bratwurst on the grill from your list of important life lessons to learn!
How to Eat Your Grilled Brats
Inglehoffer stone ground mustard is the mustard of choice for many bratwurst purists.
We'd be remiss if we didn't make sure you know the proper way to devour those tasty brats you just grilled up.
If you can, serve your brats up on brat rolls or buns — basically any harder bread bun will work fun including French rolls and sourdough sandwich buns.
Don't be that guy or gal who makes an amazing brat and serves them up on wimpy, soft hot dog buns from the grocery store.
You'll also need some mustard to keep it authentic and many bratwurst purists insist on only using stone ground mustard for their brats.
Slap your brats in a bun, add the mustard, and you're ready to bite into a little slice of bratwurst heaven!