Sheboygan takes its brats seriously and for good reason — it's viewed by most as the birthplace of the American-style brat beloved by so many.
Several Hall of Fame bratwurst makers hail from the Sheboygan area and the town and citizens take their brats very, very seriously.
Spend any time in the city and you'll quickly learn that they fry brats, serve them on a hard, round semmel roll, insist on certain toppings, and require all visitors to swear the bratwurst oath.
We've outlined all the steps below to cook up your own Sheboygan-style brats at home — i's up to you to follow them EXACTLY or incur the wrath of a horde of angry Sheboyganites!
Sheboygan Brats
Sheboygan takes its brats seriously enough to have its own brat oath.
Sheboygan brats are typically made of pork, with Miesfeld's and Kewaksum Frozen Foods two of the long-time sausage makers in the area.
There's not much difference in Sheboygan-area brats compared to other brat makers in Wisconsin, with many relying on salt, pepper, and nutmeg as spices, with varying amounts of mace, garlic, sage, and ginger also sometimes added.
So don't despair if you can't find Sheboygan brats to cook, as you'll be in the general ballpark with any quality pork or beef/pork bratwurst that you have on hand.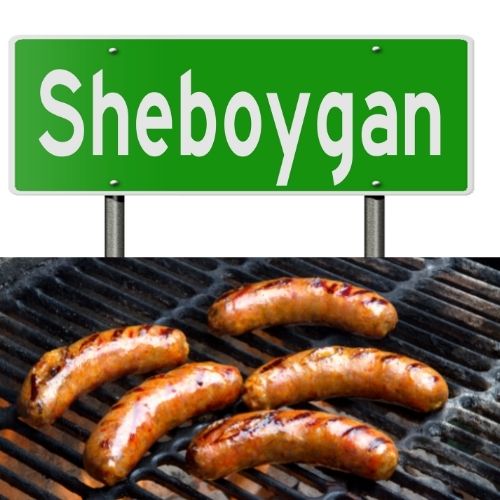 Frying Your Sheboygan Brats
You never "grill" Sheboygan brats, you always "fry" them.
Don't break out the deep fryer just yet, though — in Sheboyganese it means exactly the same thing when it comes to brats, so yes, you'll be grilling them and that's how we'll refer to the process for the sake of simplicity.
While we recommend that you simmer your brats in beer first before grilling, that is definitely NOT the Sheboygan way.
Sheboygan brats are always grilled over charcoal and they go straight from the package to the grill.
Fire up your charcoal grill and wait until the coals have burned down to a grayish, white color.
Carefully place your brats on the grill with your fingers — never use a fork or you'll puncture your brat casings and let all the juicy goodness out.
Grill your brats for about 20 minutes, and roll them over periodically with your fingers to ensure all sides are cooked and get a nice char.
They should stiffen up and be firm when they're done; continue to grill if they feel soft or squishy to the touch.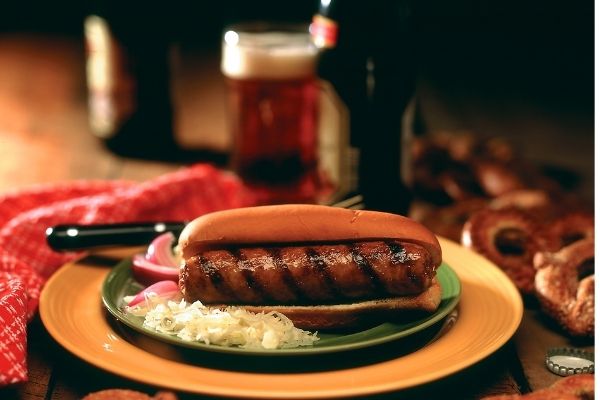 Sheboygan Brats Recipe
The following recipeis for a serving of 10 people. You can adjust the number of ingredients you addto your Sheboygan bratsdepending upon your taste and preferences.
Theprocess of cooking Sheboygan bratsis quick and easy. It requires not more than 5 minutes of prep work, but thetotal cooking time is around an hour or so.
Zutaten
1/4

Cup

Butter

2

Pounds

Sheboygan Brats

2

Nos.

Buns

12

Ounces

Beer

340 gm
Spices
2

Nos. Medium

Onion

Thin Sliced

3

cloves

Garlic

Chopped

1

Pinch

Black Pepper

Parsely

As Needed

Coriander

As Needed

Salt

To Taste

Oil

As Required
Anleitungen
Heat the grill untilmedium-hot.

Grate the grill with oil.

In a pan, melt the butter.

Add the onion slices whilecontinuously stirring until golden brown.

Pour the beer into the pan andcook it for about 5 minutes to get a saucy consistency. The moisture from thebeer evaporates, and only the concentrated taste of it remains.

The beer sauce and the onionand garlic create a complex flavor profile to entice our palates. The sauce isthen placed aside.

Add the Sheboygan brats togrill for about 30-40 minutes while regularly flipping to get an even cook onboth sides.

Once cooked, marinate thegrilled Sheboygan brats in the saucefor at least 15-20 minutes to let them absorb all the flavor from the sauce.You can glaze the remaining sauce over the brats when serving.

Ensure that you do not poke theSheboygan brats, as this will causeloss of moisture, fat, and juicy tenderness.
Notizen
The recipe above is for a plain and simple Sheboygan brat snack. However, another one of its famous recipes is the 'Sheboygan brat and potato casserole'. The recipe at its core remains the same, except for the addition of the obvious potato, green beans, cream of mushroom soup, and of course, cheddar cheese. Potato lovers, you are sure to add this to your favorites.
Serving Sheboygan Brats
Inglehoffer stone ground mustard is the mustard of choice for many bratwurst purists.
Serve your brats up immediately when they're done on the grill.
Sheboygan bratwurst is traditionally served up on a hard semmel roll, which is a round roll about the size of a hamburger bun that easily accommodates two brats at a time — a "double".
Finding brat rolls can be hard in some areas so you may have to improvise with other hard rolls.
Just be sure to use a hard roll, as it has to stand up to all the juices that a perfect brat will produce. Never use soft hot dog buns to serve a brat on.
As far as toppings for your Sheboygan-style brat, here's the traditional set-up: stone ground mustard, ketchup, raw onions, and dill pickle slices.
Yes, ketchup. Many brat lovers swear that ketchup has no place on a brat but in Sheboygan it's considered perfectly normal to add ketchup to your brat.
You'll also notice that we don't mention sauerkraut or relish. That's for a good reason, as both are considered verboden on a traditional Sheboygan brat.
Cooking Sheboygan Brats is not that hard. The key is to maintain a medium temperature. Not too hard. Not too cold. The beer and cheddar cheese variety have gained the most recognition, and so these are at the top of the serving list.
The better it is preserved for experiencing the true essence of Sheboygan Brats, the less you add to it. Adding other ingredients does enhance the flavor, but as the Sheboygan says – 'Old world recipe. Old world flavor', this motto will not hold its true meaning.