Learning how to make bratwurst can be a grind but it's also a satisfying and easy way to enjoy some very delicious brats.
You don't need to be a culinary wizard to make your own homemade bratwurst. Persistence and some basic equipment will get you there, along with a lot of elbow grease.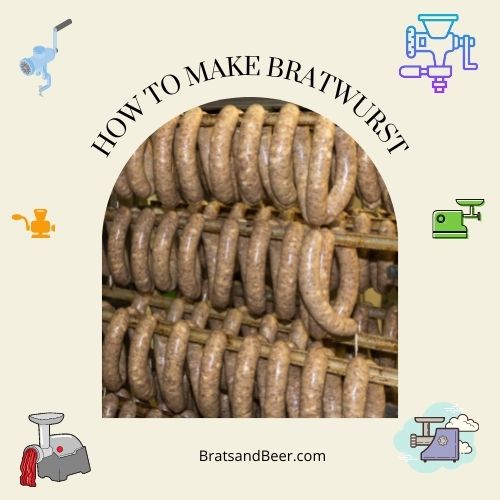 Once you get the hang of it, you can produce some tasty bratwurst that rivals what you'd buy from the likes of Kewauskum, Klement's, and Usinger's.
If you make a lot of bratwurst, going the DIY route can also be a big cost-saver in the end.
Buying a meat grinder and sausage stuffer is expensive initially but you'll quickly recoup your costs — plus get to enjoy some fresh, delicious brats!
How to Make Bratwurst: the Basic Steps
A high-end meat grinder like the STX-3000 Turboforce turns making your own brats into a breeze!
If you want to jump to some of our favorite brat recipes below, feel free to do so. But we wanted to outline the basic steps involved in how to make bratwurst, just so you know what you're in for.
Brats are basically a combination of spices and meat that is stuffed into sausage casings. Easy peasey.
Mixing up spices is a snap. Grinding your meat and mixing it together, however, isn't a snap and where most of the work lies.
You'll need a high-quality meat grinder if you really want to make your own bratwurst, as you'll be spending a lot of quality time with it so don't cheap out.
Buying a good sausage stuffer is also critical, as you don't want to fail at that stage after spending all the time grinding and mixing your meat
How to Make Sheboygan-Style Bratwurst
Our first homemade bratwurst recipe is for Sheboygan-Style Bratwurst from Food52.
This recipe uses a meat base of pork butt, veal shoulder/beef, and pork fatback, with loads of spicing and all-natural casings.
These brats are typically prepared by grilling your brats first and then finishing off in a beer bath.
How to Make Simple Bratwurst from Lets-Make-Sausage
Investing in a good sausage stuffer is key to making your own brats.
This recipe at Lets-Make-Sausage.com is more basic and straightforward, geared towards giving you a solid bratwurst base to build from as you get comfortable with the idea of how to make bratwurst on your own.
You'll mostly be using lean pork shoulder for this recipe, along with some veal or beef added in and a smaller selection of spices.
Instructions are easy to follow and you'll find additional guides for making other types of sausage.
You'll be able to use the same meat grinder and sausage stuffer that you use for your brats to make a wide range of different sausages.
The basic principle remains the same — grind and stuff into casings — whether you're making your own bratwurst, summer sausage, or other sausage.
How to Make Wisconsin-Style Bratwurst by the Paupered Chef
Last but not least, this very detailed guide walks you through the process of how to make your own brats. It doesn't pull any punches about the difficulties and some of the pitfalls involved in making home-made bratwurst.
Homemade Bratwurst Recipe Videos
Sometimes a picture is worth a thousand words, with this video breaking down the process of how to make bratwurst in simple, easy steps: