In this article, you are going to witness leftovers turning into proper healthy meals within 50-60 minutes!
It's a great idea to add Leftovers to your current meals, but also, they put you in a dilemma to figure out the best dish to create.
It is just like putting together a jigsaw puzzle and we are here to help you solve it!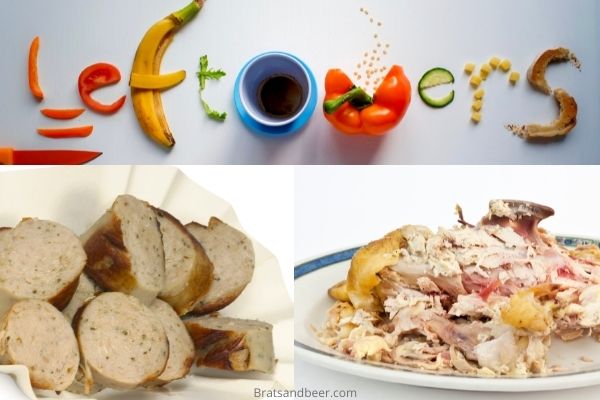 Leftover Grilled Brats
The below dishes incorporate grilled or pan-fried bratwurst leftovers that, we promise, your friends and family will fall in love with!
Philly Cheese Bratwurst
As the name suggests, it is a heavenly combination of cheese and sausage. The key to getting this recipe right is to make sure the creaminess of the cheese is perfectly incorporated with the smokey flavor offered by grilled bratwursts.
The prepping time for this dish is 5 minutes and it takes about 30 minutes to cook and land on your plate.
You can grill or sauté veggies alongside your brats so that the caramel oozing out from the sausages mix with the veggies.
Believe us, it's a sight to see! Lastly, place them inside the bun and sprinkle cheese on the top!
Bratwurst Soup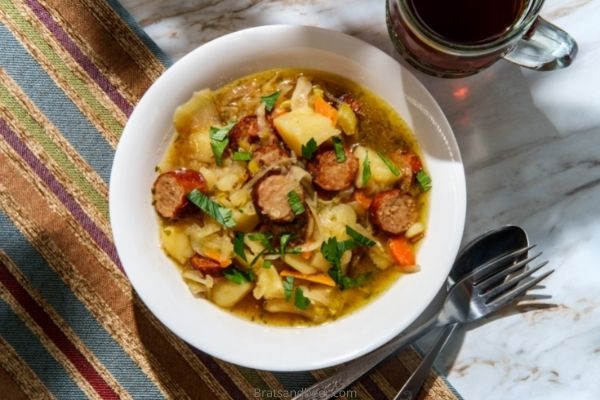 This is a hearty, filling, cold-weather soup that makes a meal if served with crusty bread and light salad.
It consists of freshly chopped onions, carrots, celery and tomatoes. The prep time is about 20 minutes and the dish is ready within 60 minutes.
Brats are reheated by grilling them on medium heat. The broth of the soup is made in a pot containing the above-mentioned veggies along with seasoning powder such as pepper and red chili powder with a dash of salt.
Add bratwurst and garnish the soup with basil and parsley.
Bratwurst Scramble
Just like a scrambled egg for breakfast, children will fall in love with this upgraded version!
This version does take a little bit longer than egg scrambles but it is all worth it when you taste the final product.
Make sure to skin the brats and crush them against the cutting board to make a perfect scramble. Throw them in a pan at medium heat.
Add veggies of your choice with a sprinkle of salt, pepper and oregano if you would like.
Apply mustard sauce or ketchup over the bread slice and add the filling. Pack them up for a picnic and enjoy them with your loved ones!
Chili Brats
Here is a spicy one to awaken those spice buds! Either you can make your spicy sauce at home or buy the most famous Korean red sauce, Gochujang, online.
To make your custom spicy sauce, you will need sesame oil, sunflower oil, garlic, ginger, red chili powder as much as you wish, vinegar and, the most important, dark soy sauce.
Whisk this mixture properly and marinate the grilled brats for about 2 hours.
Take them out and pour the entire thing in a pan and simply heat it on low flame for about 15-20 minutes.
If you love olives, feel free to add them to the pan.
Hash Brown Brats
Hash browns are, no doubt, the kid's favorite! Who doesn't love the combination of potato and meat?
We can cook this in two ways i.e., by using a pan or an oven. Read further to know exactly how to go about it.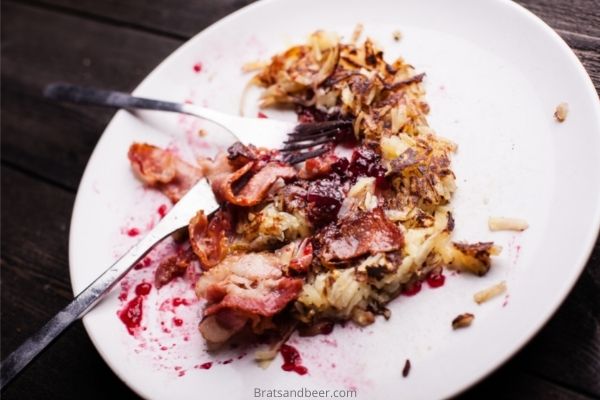 Pan-fried or Grilled
You will first have to deskin the brats and dice them into small cubes. Chop and dice green peppers, potatoes and onions or any other veggie of your choice! Also, thaw frozen corn for a good 10 minutes.
Chop sweet red peppers. Add all of these veggies and sausages to a pan at medium to high flame.
You may add seasoning as well. Cook for about 20-25 minutes with the pan covered by a lid.
Just before turning off the stove add as much cheese as you wish because there is never too much cheese in a dish, right?
Let the cheese melt and after 2-3 minutes turn off the stove and enjoy your hash browns!
Oven
Preheat the oven at 350°F. In a saucepan, add butter and let it melt thoroughly.
Then, on low flame, add flour, cheese and cook it until no lumps are visible. Do not cook the flour at high heat as this might burn it and ruin the cheese sauce. Add some grounded mustard, milk, salt and pepper and whisk it thoroughly.
Sauté veggies of your choice along with diced potatoes and add them to the saucepan.
Add the grilled bratwursts into the saucepan and mix thoroughly. Pour this mixture into a microwavable container and add the contents of the saucepan over the top.
Place the containers in the oven, uncovered, for 50-60 minutes straight. That's it! That's our all-time favourite hash brown brats. Enjoy!
Beer Brats
Beer brats are bratwursts soaked in beer and cooked at medium flame in a pot.
This technique makes sausages taste a little like beer and it is used to make delicious snacks and meals. Below are some of the dishes that use beer brats.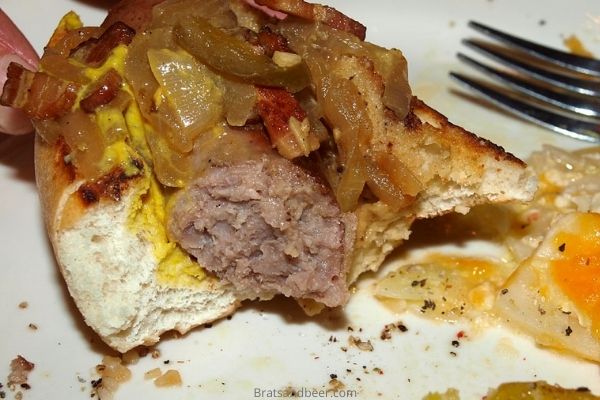 Beer Bratwurst Mac and Cheese
Mac and cheese could be the simplest and easiest dish to make on planet Earth! It literally just requires pasta and cheese! But to make it even more interesting and fun, you can add beer brats to it.
Cut sausages into small pieces or cubes and add them to your regular mac and cheese.
If you wish to go that extra mile, do add some chopped onions too. This could be your next tiffin box recipe or your kid's new favorite dish.
Beer Brat Cheesy Soup
Prepare a vegetable broth or buy one from the local market. Use loads of leafy vegetables like spinach and basil. Carrots and radishes make up a healthy combination.
Use black pepper for seasoning. For an appealing look, throw in some cabbage leaf strips.
Lastly, add the beer brats into the soup and warm up your body during the winters! Add some vermicelli noodles to make it a whole meal.
Beer Brat Sandwiches
To prepare the marinade for sausages, take a bowl and put chopped onions in it. Place the sausages nicely aligned and spaced out from each other.
Add your favorite kind of beer such that it only covers the entire sausage. Cover the bowl with a foil or a lid and place it in the refrigerator for about 12-24 hours.
The longer they stay in the refrigerator, the better. After taking them out of the refrigerator, pour the content into a pot and place it directly under the low heat section of the BBQ or grill for 10-12 minutes.
Then transfer the brats to the direct high heat section of the grill and let it cook for about 2-3 minutes on each side.
Scramble the sausages and mix them with mustard sauce or ketchup. Take those onions out of the pot and place them over a bun or bread and then place scrambled brats.
Here you go! Another interesting version of the same old sandwich!
Cabbage Roll or Lettuce Wrap
Take those leftover bratwursts out and reheat them in a pan or an oven. By then, pluck out some cabbage or lettuce leaves and flavor them with sesame seeds and olive oil.
Take those sausages and wrap them inside the leaves. You could use mustard sauce or ketchup to make it a little bit of a fun snack for kids.
If you want the leaves to be crisp, air-fry them or pan-fry them for a minute or two!
How to Reheat Cooked Brats?
There are a lot of ways to reheat already-cooked brats and the duration for them to be cooked for, varies too.
Below are some of the most common ways you can reheat your bratwurst before reusing them in your next dish.
Microwave: Takes 55 seconds on high.
Oven: Takes about 4 minutes.
Grill: Approximately 6-7 minutes of cooking is required.
Make sure that the internal temperature of sausages is close to around 152°F. You can use a meat thermometer to check the internal temperature.
Take care that this temperature must not go any higher than 190°F.
Never cut or split brats while cooking them. This makes all the juiciness of sausages evaporate and lose its freshness.
Conclusion
Bratwursts can be added to any cuisine, to any dish. Hence, one must know exactly how to make the best out of the leftover bratwursts.
We hope this article helped you to know how to reuse leftover brats and plan amazing meals in the near future!
We are happy to know that you prefer reusing food rather than throwing them away.
This is how, one step at a time, we make the Earth a better place to live in! Happy cooking!