As you might imagine, smoking bratwurst is yet another delicious way to enjoy brats.
All you need are fresh brats, a smoker, and a little patience — it will take about two hours to cook your brats in a smoker.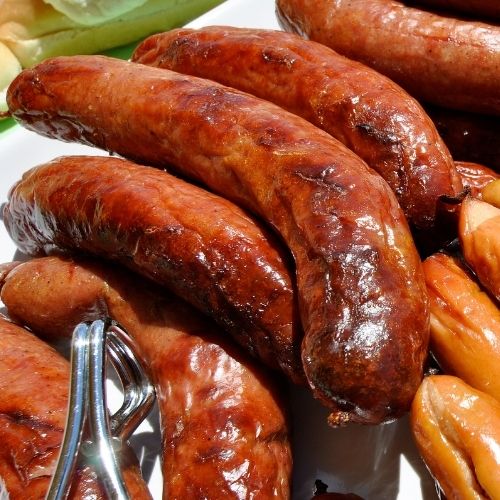 Pretty much any smoker will work, from a fancy Masterbuilt digital smoker all the way down to a homemade smoker you put together yourself.
Smoking bratwurst and other meats is just what it sounds like: you cook at low temperatures and expose the meat to smoke, letting it absorb the unique flavor produced by the wood.
Hickory, oak, mesquite, and pecan are popular woods to smoke bratwurst with.
Picking the Right Brat
Before we jump into smoking bratwurst, first things first.
All great bratwurst recipes start with a great brat. Always try to get fresh local brats even if you're not blessed to live near some legendary bratwurst makers such as Usinger's or Carle's.
WisconsinMade is the most popular online retailer that sells and ships genuine Wisconsin bratwurst throughout the U.S.
It's worth planning ahead and ordering in bulk so that you'll always have great brats on hand, as the difference in taste can be huge.
If you're in a hurry and picking from the meat aisle at the local grocery, Johnsonville is usually your best bet but check first at the meat counter to see if they can make fresh brats to order.
Smoking Bratwurst Basics
Smoking bratwurst is different from grilling it or cooking brats in a pan or in the oven.
You'll be slowing bringing the bratwurst up to a temperature of 155F to 160F, with about two hours of cooking time necessary to do it properly.
If you heat the brats too quickly in the smoker, the casings will rupture and you'll end up with dry, tasteless bratwurst.
You'll also forgo the tried and true method of gently boiling or simmering your brats in beer first.
If done correctly, smoking bratwurst slowly keeps all the juicy goodness — which is the whole point of simmering brats before or after grilling in other recipes — and adds a delicious smokey tang.
While not necessary, a digital smoker such as a Masterbuilt can be invaluable when you're first getting started with smoking brats, as it gives you much finer control over temperature levels than traditional smokers.
How to Smoke Bratwurst Steps
Actually smoking bratwurst is simple and straightforward.
Get your smoking going and aim for about 200F as far as the temperature. Some people cook at up to 250F but 200F to 225F generally works best and makes it easier to avoid overcooking your brats.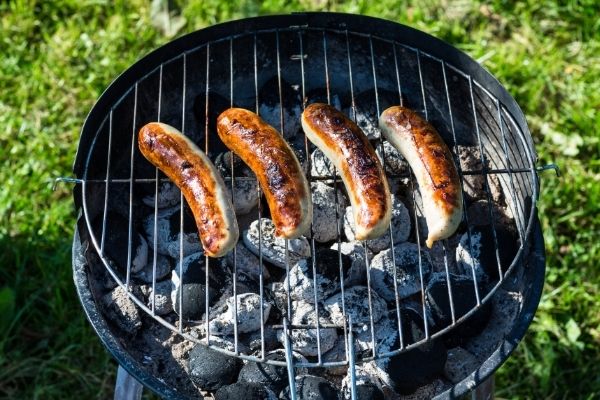 A minority of bratwurst smoking fans recommend starting for an hour at a much lower temperature of 100F for an hour, then 125F, then 150F as they slowly step up the heat to get the brats to the optimal internal temperature of 155F to 160F.
If you do start at temperatures well below 200F and are using fresh, uncured brats, be aware that most food safety recommendations for uncured meats warn to not cook at temperatures below 200F.
It's up to you but we've had more success simply setting it at 200F and letting the smoker do the rest.
Use tongs when loading the bratwurst into your smoker and take care to not puncture or tear the casings.
If you use a meat thermometer to test the internal temperature, always use the same bratwurst when checking.
Puncturing it will let the juices escape so don't inflict that terrible fate on more than one poor soldier when smoking bratwurst.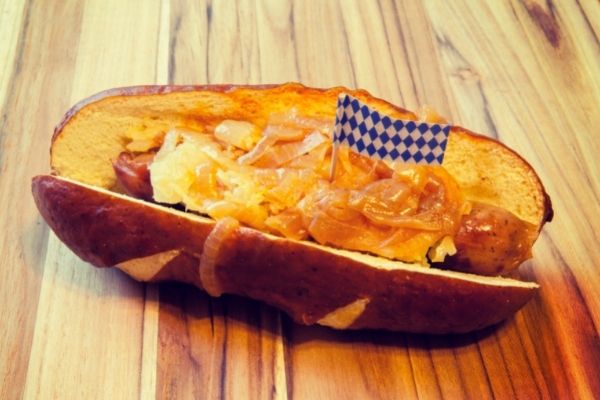 Smoke your brats for about 2 hours to 2.5 hours and you'll be good to go.
Like many things bratwurst-related, there's no one right or wrong way to cook a brat so if you're curious about smoking brats, definitely give it a whirl.
How Long Should I Smoke Brats?
There are two types of smoking methods for Brats. One is Hot smoking, and the other is Cold smoking. However, it depends on the sizes of brats, the kind of meat, and your requirements and availability of time!
Though both methods are unique in their ways; but, one thing is common; smoking brats enhance the rich aroma of BBQ flavour!
Hot Smoking
It depends on their size and thickness; you want to smoke them at around 100-107 ° C  (225 degrees Fahrenheit) for approximately 45 to 60 minutes.
Cold smoking
The meat pieces are slowly smoked at 15 to 20 ° C, up to a maximum of 25 ° C (77 degrees Fahrenheit), for around 10 to 12 hours and more prolonged, depending on size.
Here are some ready-reference-temperature-guide to compare your bratwurst smoking time.
Smoking at 180 ° F
Smoke brats at 180° for about 3 hours, then crank the temperature up to 225° for 30 minutes.
Smoking at 225 ° F
Smoke your brats for about 1 hour on the smoke setting at 225 ° F.
Smoking at 250 ° F
Set your smoking temperature at 250 ° F. and then smoke the brats for 45 minutes to 1 hour.
Smoking at 300° F
Set the temperature to 300°F. and smoke brats about 30 minutes to 45 minutes. Don't forget to turn brats several times to ensure even smoking.
Best Woods For Smoking Brats
There are several choices of wood to smoke your Bratwurst. Most barbecues use gas or charcoal to start the fire. The addition of wood chips emphasizes the meat's flavor!
You can use the wood to smoke the brats on the barbecue, but you can also pick up the juices' flavours from the flowing and loaded brats with fat, protein, spices, and even the sugar of the sauce used or dry herbs. Each type of hardwood will give your brats different flavours.
What To Choose As Wood For Smoking Brats: Deciduous Trees Or Softwood
Hardwoods are definitely the best choice for smoking brats on the barbecue; however, wood from deciduous trees, especially fruit or nut trees, is ideal for cooking.
Important Tips to choose your wood for smoking brats
Do not use softwoods such as pine, fir, spruce, or cedar. They burn too quickly, cause a lot of smoke, and some say they can even make you sick.
Do not use your construction sawdust. These could have been treated with chemicals;
Do not use elm, eucalyptus, or sycamore;
Do not use painted or treated wood (such as scraps from your patio);
Do not use wood from an old piano or other pieces of old furniture, as it may have been treated with chemicals;
Avoid elm and eucalyptus, or other liquid resin trees;
You can buy Jack Daniels smoking wood chips from their oak barrels.
Never use coniferous wood, like fir, spruce, pine, redwood, cedar, or cypress;
Do not use old pallets because it is impossible to know what may have been placed there;
Do not use old, rotten, or moldy wood.
Best Wood For Smoking Brats
The Wood Pellets: you need will mainly depend on the type of seasoning you have chosen.
Hickory pellets: It is a versatile option that goes great with more traditional barbecue flavours.
Maple or Applewood: The pellets will add that incredible sweetness that many people love in their sausages.
Hardwoods: While you usually can't go wrong with wood pellet flavours, some hardwoods like Oak provide a milder nutty flavour that doesn't do much for kids.
How Do You Tell If Brats Are Done When Smoking
Smoking bratwurst is absolutely an art; you should smoke them for one hour, then slowly increase the heat to 300°F. Keep smoking for one extra hour, or until your brats skin seems golden brown and they have wrinkled slightly.
If you are not used to this, use a temperature probe to measure the heat. You can tell that your brats are done when the internal temp reaches 160°F.
Kudos!
Best Tips For Cooking Smoked Brats
Many smoked bratwurst recipes are possible to prepare yourself, and each one as delicious as the next. Want to know how to become a master of cooking smoked bratwurst? We reveal the secret to becoming the star of cooking smoked bratwurst! Here are our best tips for cooking smoked bratwurst. Take a look!
1.The Traditional Method Of Cooking Smoked Sausages Is Done In The Pan:
When boiling, add the brats and let them boil for 10 to 15 minutes to simmer unsalted water without stinging them. This cooking is available for all simmered recipes, such as lentils and brats, by adding smoked sausages 10 to 15 minutes before the end of cooking.
According to an old-fashioned recipe, we also offer you various other cooking methods to make delicious smoked sausages over beech wood.
2. How To Cook Smoked Sausages In The Oven?
One of the tips for cooking smoked brats in the oven is to make it in foil. To do this, just wrap the smoked brats in aluminium foil, and cook for about 20 minutes in an oven preheated to 200 ° C.
You can add chopped onions, sprigs of thyme, and chopped parsley to the papillotes for even more indulgence.
3. How To Cook Smoked Brats In A Pan?
To vary the pleasures, cook the smoked brats in a pan.
First, they must be cooked in water. To do this, just immerse the brats in cold water and bring the water to a simmer over low temperature.
Then, in a pan, cook them covered with olive oil and regularly turn them for 10 to 15 minutes.
A little tip for the greediest:  Serve with a pan of potatoes!
4. How To Cook Smoked Brats In A Pressure Cooker?
Opt for cooking in a pressure cooker for quick and convenient cooking. Add water and adjust the steamer basket in which you will have put the smoked brats. Then, close the lid and cook over medium heat for about 15 to 20 minutes from the whistle.
5. How To Cook Smoked Brats On The Griddle Or The Barbecue?
Winter has arrived, but you want to extend the summer?
Smoked brats can be cooked on a griddle. First of all, you need to boil the smoked brats in simmering water for 15 minutes. Then once the griddle has been preheated, the smoked brats are left to grill for 5 to 10 minutes. For even more indulgence, they can be enjoyed with zucchini, peppers, and grilled onions.
For even more authentic cooking, cook the smoked brats on the barbecue for 15 to 20 minutes, preparing them in foils.
Whatever cooking method you choose, do not prick them; they could lose their delicious smoky taste!
6. How Long Does It Take To Smoke Brats In An Electric Smoker?
Making smoked brats is easy. Right meat, a little preparation, a few embers and a small electric smoker: let's go! If the urge to smoke brats on it, don't hesitate. Here's what you need to know about bratwurst smoking…
An electric smoker is the most popular of all smoked meats; cooking times average about 75 to 90 minutes per pound of brats, it depends on an optimal smoking heat of 225°F to 225°F. All you need is enough cooking space to smoke your Bratwurst!
If you have a temperature-controlled electric smoker, set it to 90 ° C. If you have a charcoal smoker, light the coals in a lighter, let them warm up for 15 minutes, and transfer them to the smoker's floor. Check the temperature with the built-in thermometer or a laser thermometer.
Don't forget to Keep the smoker closed while preheating to retain heat.
With a smoker…
Electric or charcoal smokers;
Wood chips;
Coal lighter;
Coal;
Baking gloves;
Meat thermometer.
How Do You Smoke Brats On A Pellet Grill?
No matter how you cook them, brats are always the right choice when grilling for a crowd. And if you want to improve your game, don't take just any brats. You have to bring the brats. You also have to know how to grill brats– from selecting the brats and the spices to the perfect cook on the carrier, to the bun's correct toasting.
Smoking Bratwurst On Pellet Grill
For smoking your bratwurst, put the brats in the middle of the wire rack. It can cook evenly on all sides for a few minutes over high heat. Then you put the brats on the edge of the grill and continue turning them frequently.
You can say your brats are ready when they look crispy on the outside (but not burnt!) And hot juicy on the inside. Pre-cooked brats can be served after 6 to 7 minutes smoking; raw sausages take a little longer at 10 to 15 minutes.
Be careful, by cutting in; prevent the smoked brats from bursting open. But be more precise with raw brats, the same method only leads to them drying out on the grill!
Some automatic temperature control pellet grills are available in the market for the perfect brats with the pellet grill. Simply set the auto mode temperature to around 300 ° C. to 330 ° C. And enjoy your beer! Your brats will be smoked! Interesting! Isn't it?
Benefits Of The Pellet Grill
Here are some advantages of the points of pellet grill
Very easy to use;
Clean handling;
Easy cleaning;
Short heating time;
Use of the entire grill area in indirect operation;
Versatile preparation options;
Constant even heat and subtle smoke aroma;
Completely harmless in contrast to a gas smoker.
Limitations Of The Pellet Grill
Where there is light; there is also shadow; of course, a pellet grill also has a few "limitations", if you want to call them that. However, they are subjective.
High acquisition cost;
Always requires a power connection to supply the control technology;
Too dull for some, therefore also called "an old-men-smoker";
In principle, technology is also prone to technical errors;
With some models only indirect heat is possible.
DIY: Can You Smoke Johnsonville Brats?
Guys, are you tired of the typical grilled bratwurst burnt on the outside and dry on the inside? Then it's time to try the smoked bratwurst on the BBQ and then soaked in beer!
Try the famous Johnsonville Bratwurst, like other recipes such as Pulled Pork, Ribs and Brisket represent American barbecue's foundations.
If we want to call it that, this recipe is actually the perfect exercise for those who try their hand at the first indirect cooking and experiment with smoking.
In fact, the beats will hardly be affected by any cooking temperatures that are not too stable or by "excess smoke," thus always guaranteeing an exceptional result that I am sure will surprise you.
Soft and juicy interior, rich in the moods of meat and dissolved fat, a strong hint of smoked, and a crunchy skin…Ahh! These are the characteristic hallmarks of smoked BBQ bratwurst!
Smoked BBQ Bratwurst
Let's see what you need in addition to a barbecue with a lid:
Bratwurst here we could open a chapter dedicated exclusively to the type of brats: meat, percentage of fat, flavorings, dimensions, etc., etc. (I prefer and have used Johnsonville Firecrackers), cherry chips or chunks for smoking two aluminum dripping pans, beer at will … so it should not be wasted 😋
How To Prepare Smoked Sausages On The Bbq?
After lighting the charcoal (half of the lighter basket should be enough), prepare the barbecue for indirect cooking at medium-low temperature, around 150 – 160 ° C:
Remove any string that binds the brats and divide them, being careful not to damage the casing;
Pour the embers all on one side of the bbq and place a drip pan on the other, drip pan that will help you keep the bottom of the bbq clean by collecting the fat falling from the brats;
Arrange the brats on the opposite side of the embers and add a handful of cherry chips (the cherry, in addition to marrying perfectly with the pork, gives a reddish color to the meat);
Close the lid and smoke for at least 25 – 30 minutes; if the smoke stops earlier, add another handful of chips half fill an aluminum pan large enough to hold the brats halfway with beer, then place it in the barbecue on the direct side so that it warms up;
Cook the brats for about 40 – 45 minutes in total, check that they have become firm, compact and above all with a thermometer make sure that the core temperature is 80 ° C;
Dip the sausages into the dripping pan with the beer and keep warm-serve the bratwurst in the way you prefer, sandwich, crouton, nature!
Exclusive Tips:
This Johnsonville smoked bbq bratwurst will surprise you, I'm sure… they will be the softest, hot, tastiest, and juiciest sausages you will ever eat.
The advice is to serve them with simple grilled vegetables (onions are perfect for example, as well as peppers) and with sauces, I suggest a barbecue sauce like Jack Daniel's if you want to go classic, or you can also prepare at the last minute a pungent mustard mayonnaise only by mixing together a part 250 gr of mayonnaise, two tablespoons of dijon mustard and a tablespoon of old-fashioned mustard (the one with grains).
Our recipe can also be easily performed on the gas barbecue, always using a setup for indirect cooking and smoking!
Cheers and relish your Smoked Bratwurst!
Smoked Brats Recipes
Summer is still far from us, but it doesn't mean you have to put aside some of your favourite seasonal flavours and dishes. Smoked Bratwurst may rock your taste buds on the grill, however, if you pitch in a few more ingredients and spices, you can transition this savoury flavour of summer into a few recipes that will have you keep preparing for many more!
1. Goulash Smoked Bratwurst
Slice the onion, cut the tomatoes into large pieces and the smoked brats into slices and the potatoes;
Brown the onion and tomatoes in a little butter;
Then add the potato slices and the brats;
Cover everything with water, add the chicken stock cube. Salt very little and add pepper;
Let reduce;
You can add chilli powder if you like making a little spicy;
Enjoy your yummy meal!
2. Rougail Smoked Bratwurst
Start by pricking the brats and heating them in boiling water for 10 minutes (use the same casserole dish as for the dish if possible);
Meanwhile, mince the onions, roughly crush the garlic, dice the tomato, and the canned ones, and keep the juice;
Once the brats are cooked in water, cut them into 1.5 to 2 cm sections and set them aside. Empty the water from the pressure cooker;
Return the casserole to the heat, pour in olive oil, when the oil is hot, add the onions and garlic and brown, they should just brown;
Add the cut brats, the diced tomatoes, the turmeric, salt, and pepper. Then, mix well and cover;
Simmer over low heat for 45 minutes or even 1 hour if you use an electric stove (very very low heat);
Stir from time to time and adjust the seasoning if necessary.
Our suggestion: serve this dish with rice.
3. Jambalaya with Smoked Bratwurst
Brown the smoked brats in oil;
Then, remove them and cut them into slices;
Add onion, scallions, peppers, garlic, thyme, and bay leaf;
Then, cut the chicken breasts into little pieces;
Just add rice and let it brown;
Add tomato paste, stir and wet with the chicken stock;
Add clove (if you don't want it to be too strong in taste, remove it after 5 min of cooking), paprika, chilli, and a hint of cumin (depending on individual tastes);
Add salt and pepper. Be careful, the brats, as well as the chicken breast broth, are already a bit salty; So, when the rice has absorbed all the broth, add the shrimp.
As soon as they are prepared, sprinkle with lemon juice and serve promptly;
Joy to you!
4. Chicken And Smoked Bratwurst Pie
Brown the chicken breast in the pan.
Meanwhile, simmer some water for the brats.
When the water simmers, immerse the smoked brats in it for 10 minutes over low heat.
Meanwhile, in a bowl, combine the salt, pepper, and creamy curry.
When the meats are cooked, let them cool and cut them into slices or small pieces.
Put your first puff pastry in a pie mold and prick it, place the pieces of meat and the mushrooms in strips.
Place spoons of cream on the ingredients.
Cover with the second paste and make a chimney, apply the egg yolk with a brush.
Bake at 200 ° C (thermostat 6-7) for about 30 minutes until the pie is golden.
Serve with a green salad. Enjoy!
5. Lentils With Smoked Bratwurst
Brown the garlic and onion in a saucepan with the olive oil, meanwhile wash the lentils thoroughly, then pour them into a saucepan and cover them with water, simmer until it is either cooked, then add the thyme and bay leaf, add salt and pepper.
In another saucepan, cover the smoked bratwurst pierced with water and let them boil, do this action twice before inserting them into the lentils to finish cooking.
Once the lentils are cooked, serve hot, and have a good appetite !!
Here, we share some more good Smoked Bratwurst recipe names for your dear and near ones to develop their taste to relish your joyful moments. Some of them are classic yet popular recipes to delight the whole family and ideas expressed … see what we have prepared for you!
Broccoli With Smoked Bratwurst
Beef Sauerkraut And Smoked Bratwurst
Smoked Bratwurst Pie
Smoked Bratwurst Mozzarella Lasagna
Red Cabbage With Smoked Bratwurst
Puff Pastry Of Small Vegetables And Smoked Bratwurst
Lentil And Smoked Bratwurst
Potatoes With Bacon And Smoked Bratwurst
Main Course
Potato Stew With Smoked Bratwurst And White Wine
Smoked Cheddar Bratwurst
Smoked Bratwurst Hamburger
Smoked Tomato Bratwurst
Thuringer Rostbratwurst
Mettwurst
Potato And Smoked Bratwurst Skillet
Risotto With Smoked Bratwurst
Grilled Smoked Bratwurst With Onion And Red Wine Sauce
Smoked Bratwurst Earth Mushrooms
Vosges Galette With Smoked Bratwurst
Smoked Bratwurst And Parsley Potato Stew
Rougail From Reunion Island With Smoked Bratwurst
Smoked Bratwurst Couscous
Smoked Bratwurst Pasta
Smoked Bratwurst Fricassee
Smoked Bratwurst And Caramelized Onion Sandwich
Fried Potatoes And Smoked Bratwurst
Peas, Cooked Sucrine And Smoked Bratwurst
Smoked Bratwurst Rolls
Crown Of Smoked Bratwurst
Winter Soup With Smoked Bratwurst
We have reached the end of the talk. Has no pleasure that does not give! I hope you have enjoyed our post. Keep visiting us to explore the new realm of Bratwurst! Take rest, have some brats with your favorite beer, and chill!
Looking forward to your expressions and reflections in the comments…!