Cooking brats can be a joy, especially if you have plenty of hungry mouths waiting to devour the fruits of your labor.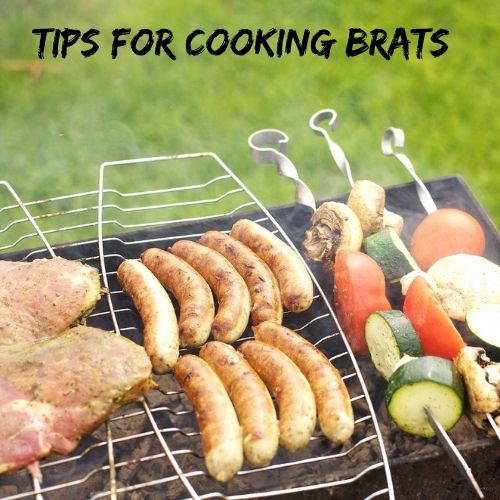 That can be a little intimidating, though, especially if you're just learning the bratwurst ropes.
The good news — cooking brats is really easy and it's hard to go wrong with grilled sausage.
You can serve up the classic grilled brat — served on a hard roll with stone ground mustard — along with some trusty bratwurst side dishes or cook up many different delicious bratwurst recipes.
Below you'll find some basic tips and pointers to get you started on the right foot in your cooking brats journey!
Ten Great Tips for Cooking Brats
WisconsinMade.com specializes in shipping genuine Wisconsin brats to every U.S. state.
1. Don't skimp on the brats and try to buy fresh, local brats if at all possible. Kewauskum, Klement's, and Usinger's all make Hall of Fame caliber brats and Wisconsinmade.com ships a wide range of bratwurst and other sausages throughout the U.S.
2. Brats aren't hot dogs. Whether you're boiling brats, grilling brats, or cooking them on the stove or in the oven, NEVER puncture the outer casing and skin. You'll lose all the tasty juices and spices that make brats special.
3. Handle your brats very carefully with tongs as you cook them or move them to the grill. They will split and break very easily so take care.
4. Ease into the heat. If cooking brats in a pan, start at a low heat and inch up towards medium if you need to. Do the same when cooking brats on the grill. Adding brats to a pan or grill that's too hot can cause them to instantly split and shrivel up.
5. Simmer brats in beer and water (or similar liquid) before grilling but take care to just gently simmer them at a very low boil, cooking your bratwurst for about 15 to 20 minutes.
Inglehoffer stone ground mustard is the mustard of choice for many bratwurst purists.
6. After simmering your brats, you'll only need to grill them for about 5 to 10 minutes on low to medium heat. Simmering the brats cooks them — grilling them just finishes them off and adds that nice char and crispness to the skins.
7. Trust us, go easy on the grill. The leading cause of dry, disappointing brats is because they were left on the grill too long or because they were grilled directly out of the package without simmering first in a beer bath.
8. Serve immediately after cooking brats, as they're always best right off the grill or straight out of the pan.
9. Never serve brats on a soft hot dog bun. Brats should always be served on a hard roll, with the crunch of the roll complementing the crisp, grilled skin of the bratwurst.
10. Save the cheap French's mustard for hot dogs and only use a quality stone ground mustard on brats.