If you're looking for a single go-to brats recipe, then look no further.
Our classic brats recipe below is exactly that — a simple recipe for great bratwurst that has stood the test of time and is beloved by millions.
Some people enjoy experimenting with different bratwurst recipes while others want to cut right to the chase and cook an amazing brat.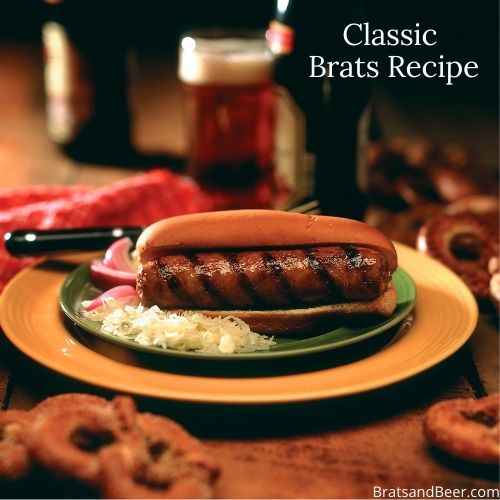 Either way, we've got you covered. Add in some bratwurst sides and you'll have all the brat bases covered.
Let's jump right in and start grilling up perfect brats and wowing friends and family with delicious bratwurst!
The Classic Brats Recipe
WisconsinMade.com specializes in shipping genuine Wisconsin brats to every U.S. state.
Picking the best brats for any brats recipe is critical.
Think of it like cooking a steak, as the quality of the cut of meat you use will have a huge impact on the taste of the finished product.
Kewauskum, Carle's, and Usingers are just a few of some bratwurst Hall of Fame caliber brat makers but getting your hands on any in most parts of the country is very hard.
WisconsinMade.com is a good bet for buying brats online and you can even make your own bratwurst or find local butchers who will make brats to order.
If your only option is to buy packaged brats at the grocery store, Johnsonville brats are usually your best option.
You'll also need a few white onions and a six pack of beer for the classic brats recipe.
Beer, Glorious Beer
Inglehoffer stone ground mustard is the mustard of choice for many bratwurst purists.
Brats and beer go together like, well, brats and beer.
Not only is beer great to wash down your finished brats but it's also a crucial ingredient when cooking the classic brats recipe.
We're going to simmer our brats in beer first before grilling them.
This accomplishes two things: it adds some flavor but more importantly it will keep our brats plump, juicy, and moist while they cook.
Slice up your onions and add your brats to a pot or pan, covering them in a liquid mixture that is equal parts beer and water.
Bring that to a boil but watch closely and turn down to a simmer once it boils. Add your onions on top as it simmers. Simmer your brats for about 15 to 20 minutes.
Be sure to keep them at a low simmer as boiling them at too high a heat will cause a brat disaster, with the casings and skin splitting and all the tasty juices leaking out.
Fire Up the Grill
The Char-Broil Classic is one of the best grills around for brats.
You're almost to the finish line.
After your brats have simmered for 15 to 20 minutes, it's time for the grill, which should be set on low to medium heat.
Be very careful when transferring your brats to the grill, as it is easy to split or puncture their skins. Use tongs to handle them and treat them gently, like the precious cargo that they are.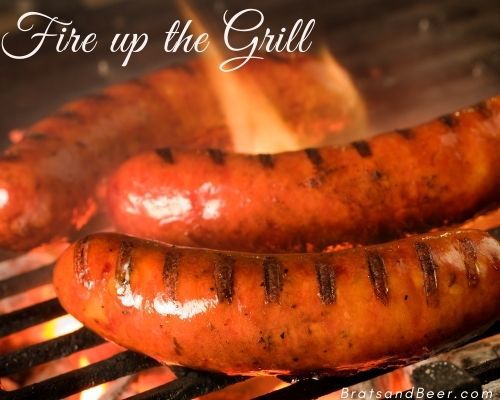 Your brats are already cooked from the beer bath, so you'll grill them for just 5 to 10 minutes on the grill, only long enough to get a nice crisp char on them.
Avoid the temptation to grill them for too long — or too grill them at too high a heat — as that's where most brats recipes and chefs go wrong.
Brats that stay on the grill too long or are cooked at high temperatures tend to split, with all the juices and spices running out and leaving you with a dried, tasteless brat.
Once your brats and done on the grill, serve them up immediately on a hard roll with stone ground mustard.
That's it! You're done! Consider yourself a master of the classic brats recipe!