Looking for a fast and hassle-free way to make snacks? Want to make some of the yummiest dishes out there to impress your family and friends? You have come to the right place! We can show you the right way and the many ways to cook your bratwurst!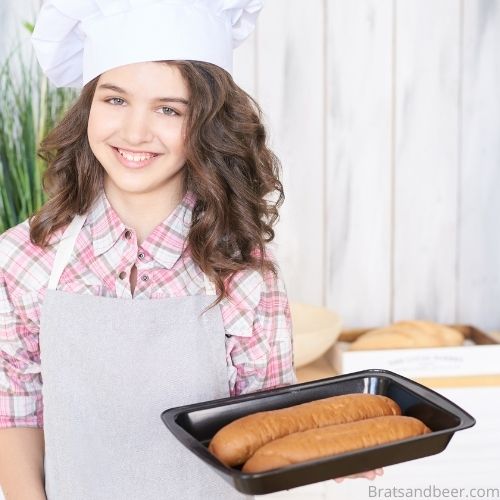 Bratwursts can either be pan-fried, grilled, or can be cooked in the oven. Either way, you will be serving your guests juicy, smoky-flavored sausages. Make sure that the sausages are well thawed for at least half an hour before you start cooking them.
How to Bake Bratwurst?
The easy way to go about this is to follow the below steps:
Take a stainless-steel pan (this is very important because stainless steel allows high heat transmission), turn the stove to medium heat.
Place the bratwursts nicely spaced out over the pan.
Add a quarter cup of water.
Cover the pan with a lid before all the smoke escapes.
Let it cook for 5 minutes and then flip the bratwursts and cook for another 5 minutes.
The moment you see a nice coat of brown layer, take it out of the pan and serve it just like that or add some veggies of your choice.
The much traditional way to go about this is to:
Take a stainless-steel pan and add a favourable amount of pork fat/ sunflower oil/ beer of your choice/ hard apple cider/ veggie broth. The reason why a broth is used is to deep fry the sausages without getting the oil burnt away. Heat the broth on a medium-high flame.
When the sausages are at room temperature, dry them using tissue and bring the heat to a medium then carefully place them in the pan spaced out from each other.
Cook for 2 minutes and be careful because oil might splatter.
After one side has turned golden-brown, flip the sausages and cook for 2 minutes more.
To make it appealing to the eyes, make sure the brown crisp layer is evenly distributed throughout the sausage and cook it for 2 minutes more.
Last but not the least, press down with a wooden spatula to check the juiciness.
You could sauté some green veggies and sprinkle salt and pepper over the bratwurst to add flavour.
How Long to Bake Bratwurst?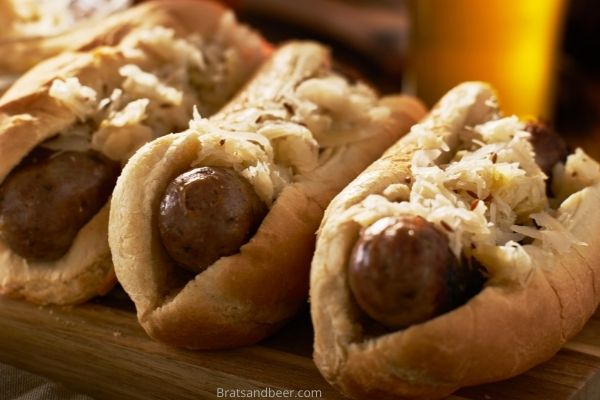 When bratwursts are pan-fried or grilled, they take about 10 minutes to be thoroughly cooked for each side. To check whether they are thoroughly cooked you can stick a toothpick and check if it comes out smoothly or not. If it doesn't, then cook it for another 2 minutes.
How to Bake Bratwursts in an Oven?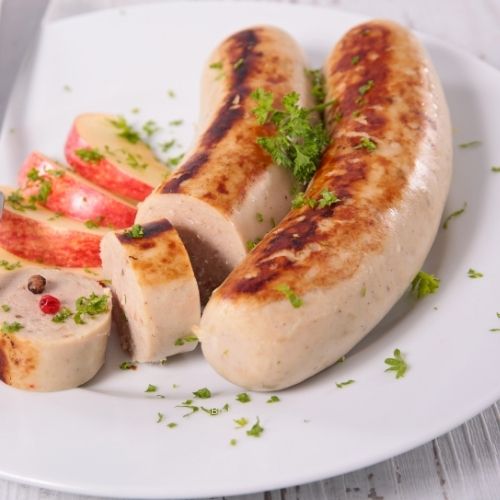 The most hassle-free way is to lay the bratwurst down on a foil-lined cookie sheet and place the tray on the top rack of the oven. Cooking them for 5-7 minutes straight and then flipping it and repeating the process, there couldn't be a method easier than this one!
For flavouring, mix olive oil, apple cider vinegar, salt and pepper in a bowl according to the number of sausages to be prepared.
Place the sausages on the tray covered with a baking sheet and parchment paper.
With the help of a brush, gently glaze the mixture over the sausages.
You could add and glaze veggies such as bell peppers, onions, tomatoes for a much healthier version.
Bake for 10 minutes straight at 425 ℉ and flip it to the other side and repeat the process.
Use a meat thermometer to ensure the internal temperature of the meat reaches 160 ℉.
After, in total, 20 minutes of cooking, rest the sausages for 5 minutes.
Feel free to add some side dishes like French fries and stir-fried veggies for an interesting snack.
How Long to Cook them in an Oven?
The duration of cooking depends on the thickness of the sausages. If the sausages are thicker than usual chicken sausages, cook them for 30-35 minutes and if they are a bit thinner, 45 minutes would be perfect!
Best Dishes You Can Make Using Bratwursts
If you want to create a whole filling meal, you might want to check out some of the best and quick prep meals down below:
Bratwurst Casserole with Potato
Duration: 90 minutes
Ingredients: 11
Calories: 290 cal
This dish is a mixture of German-Irish cuisine, to say the least. It is baked in the oven and has simple ingredients like bacon, bratwurst and potato. If you are a cheese enthusiast, feel free to add some cheese! This would be perfect for a Thanksgiving dinner with your friends and family!
Duration: 60 minutes
Calories: 320 cal
This dish is a very creative combination of German and Italian cuisine. Bored of using the same old fried chicken in your pasta? Try adding these sausages to your normal red or white pasta for a change.
Apple Sweet & Sour Bratwurst
Duration: 40 minutes
Calories: 290 cal
Add those grilled bratwursts to a large saucepan containing simmered applesauce and apple juice. You will also need sauerkraut and brown sugar. Add a little cinnamon powder, salt and pepper to the saucepan. Cook for 10 minutes and serve hot.
Duration: 60 minutes
Calories: 220 cal
This dish could be your next favourite snack for tea time! Grilled bratwurst nicely wrapped in a puff pastry sheet in the oven for 20 minutes straight at 430℉ would make a fun mini-meal. It's so simple to make, Isn't it? Make sure to thaw the pastry sheets at least for an hour. You could add sesame seeds over the puff pastry for some of that appetizing look.
Sweet Potato Sausage Dogs
Duration: 90 minutes
Calories: 309 cal
Use sweet potato instead of bread/ buns for a healthier version of hot dogs! Add some of the good old BBQ sauce or mustard sauce. Enjoy it under the bright sun in a park!
Duration: 60 minutes
Calories: 290 cal
Mix grilled bratwurst with flat Thai noodles or spaghetti instead of the usual chicken. Feel free to add loads of colourful stir-fried veggies. A nice glass of old wine and there you go, a meal to enjoy with your significant other!
Duration: 50 minutes
Calories: 310 cal
Why not? The juiciness of the sausage combined with the cheesiness of pizza! Mouth-watering would be an understatement. Add on some basil and tomatoes and expect guests to ask for more!
Final Verdict
There are so many ways one can incorporate bratwursts in their meals. Children and adults love it! It could be the perfect snack to munch on during tea time as well! We hope our article on the ultimate guide to baking bratwursts has helped you get an idea as to the different ways of cooking and prepping bratwursts meals. Happy cooking!