How many times have we made fun of the Germans for their way of eating or recipes? It seems so confused, full of fats and unhealthy additions; we wonder why do they make such dishes!
Yet, there is one among these, which has become famous worldwide, even here with us. It's Bratwurst. The Bratwurst recipe, the typical grilled sausage made from pork and beef, is a specialty of Bavarian cuisine, which has always been present in German gastronomy.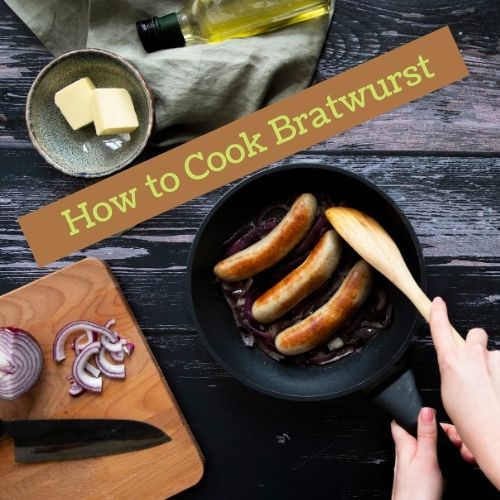 Let's say immediately that the most popular version and the best are that of Bratwurst with onion sauce, delicious as a single dish or as a quick snack to be consumed in one of the many kiosks in the city. Moreover, nobody forbids you to try it in its typical Bavarian street food variants, such as Bratwurst with fries and salad or spaetzle.
However, if you're finding different ways to cook fantastic Bratwurst, then you're in the right place, guys! We have some tremendous detailed-tips for you to cook Bratwurst recipes, plus how to cook Bratwurst in the oven and a pan and other Bratwurst dishes and including "How To" guides.
Hey, brat lovers! Be happy and stay tuned! We share so much other great content related to Bratwurst, including our Bratwurst Hall of Fame, Battle of the Brats contest, and our best guides for making your own Bratwurst. Hurray!
Picking the Best Brat
Friends, There is no real secret to cooking Bratwurst with any specific technique or any secret tip; it's just to start with a fresh Bratwurst made the old-fashioned way.
Hence, as a first Bratwurst, we recommend that you prepare a typical Bratwurst and cook the best recipe; all you need is the right meat, like a good starting point for your sausage. For this, you need hearty pork, for example, from the neck or shoulder. Hearty also means that the fat of the meat is quite firm and not watery. This creates the pattern of red meat and white fat in the Bratwurst.
You can determine the amount of fat entirely freely. In the end, you have to like sausage. However, you are free to choose your own mix of veal, pork, or beef. Many meat counters and local butchers make fresh brats; from there, you may get it.
Klement's, RJ's, Usinger's, Carles, and all those brat makers mentioned in our Hall of Fame lists prepare amazing mouth-watering Bratwursts in the territory. But it can not be easy to find outside the Midwest land.
Wisconsinmade.com is also an excellent choice to get the best Wisconsin Bratwurst online for those living outside of the prime brat region, with Glenn's Market providing most of the brats that Wisconsinmade offers.
If there is no other option available for Bratwurst except the pre-packaged meat aisle at the grocery store, then Johnsonville brats and ALDI's Roseland brat line are likely your best picks.
A little tip: Take photos/note your ratio of meat to fat. If the Bratwurst gets too dry, then you know that you should increase the fat content next time. If you don't like the colour, you can also select a different meat piece, etc.
How To Cook Bratwurst
All you need is a good, fresh brat, and it's time to get cooking. Moreover, Bratwurst can be prepared in so many different styles, so pick right from the many options whether you want to serve up the Sheboygan style or try your own taste.
Do you know mates, most people prefer to make grilled Bratwurst, but you can cook perfect brats in the oven or on the stove in a pan if you don't have the equipment to a grill.
Plus, you can also smoke brats in your smoker, but don't forget the side dishes for sure! There's no one "exact" way, and it is a great thing to prepare Bratwurst! Even people from the heart of brat country in Wisconsin may tell you that you do not require any specialized things to try in your quest for a great brat. You just need a grill or a stove and a desire for delicious Bratwurst.
Here are some simple ways to cook Bratwurst:
It is the tastiest and therefore famous way. The trick is to brown them for 5-10 minutes. The alternative is the barbecue or the oven; the result will be the same.
Only water in a pan; if you want, you can add a few drops of beer.
In the pan, melt about 15 g of butter; medium-high heat, add an onion cut into rings and let it brown for a couple of minutes. Then, add the Bratwurst and let these too brown for a few minutes (turning them from time to time). Finally, add 180 ml of dark beer (about half of the bottle), cover the pan, and cook for 15 minutes. If you wish, then you can pass your Bratwurst on the grill or barbecue! Enjoy!
How to Make Bratwurst Yourself
It is easier than you think; it is the simplest type of sausage with which hardly anything can go wrong. Making Bratwurst yourself means great pleasure with a guarantee of success! That is why it is the ideal sausage for beginners. A feeling of success quickly sets in, and you can gain initial experience with the matter.
You can also easily make your own homemade Bratwurst, with delightful concepts such as venison Bratwurst. It's very easy to learn how to make your own Bratwurst and will definitely save your money over time once you get the right stuff.
You will require a quality meat grinder and one sausage stuffer, and they will serve you for many years; you can then crank out some yummy self-made Bratwurst. Making yourself brats fun tasks, but you will savour these tasty recipes with the finest and freshest ingredients and cost-effective. Because a homemade brat costs a fraction of what you pay at the restaurant, we are sure you'll be the envy of all your friends too when they hear that you're a master fellow of both making and cooking Bratwurst! Isn't it cool? Yay!
The History Of Bratwurst
Whether in the barbecue season, with hearty winter dishes or all year round in the snack bar: the sausage is popular on our plates.
The term derives from the combination of braten (roast) and Wurst (sausage). By the time "Bratwurst", the Germans mostly mean "a product of meat,"which is very vague
Artistic representations from Syria, Egypt and China that are 5,000 years old already show sausages. The Bratwurst received its first literary honours in 800 BC when mentioned in Homer's "Odyssey." The Romans were then considered to be very special sausage fans.
The history of Bratwurst has to be rewritten because the crispy grilled food is obviously aged than presumed. It has a very long tradition in Germany — stretching back to the 13th century — however, American-style Bratwurst spread into its own comparatively newly in the early 1900s.
Sheboygan, Wisconsin, was the first spot for the beginning of the Bratwurst trend in the U.S., with German immigrants establishing their sausage-making expertise to work in innovative styles.
However, Wisconsin is still a top brat land in the U.S. and home to all of our Hall of Fame Bratwurst makers. Sheboygan is recognized by many to be the Bratwurst capital of the planet, but Bucyrus, Ohio, continues a big Bratwurst festival of its own each year.
Interesting And Delicious Variety: From Bratwurst To White Sausage
The fact is those different traditions of sausage production soon developed and thus regionally typical sausages. Most sausages contain very finely coarsely chopped meat from pork, less often from lamb, beef, horse or other animals. Sausages get their individual note from other ingredients such as marjoram or allspice, garlic, fennel, paprika, anchovies, wine – there are no limits to your imagination.
Traditionally, Bratwurst was made with veal, though American-Bratwurst-makers approached primarily using pork, with their brats usually much larger than German-way brats — many of which are the size of a pinkie finger and proposed to be eaten by the number of dozen.
The type of processing and size is also determined for typical regional varieties. Nuremberg sausages have a fine structure, are seasoned with marjoram and are a maximum of seven to nine cm long. Olma sausages from St. Gallen are made from veal and have a larger diameter. The spicy Thuringian Bratwurst contains caraway seeds, has a finely chopped sausage meat, is filled in natural casings and is fifteen cm long.
But try it yourself – the selection range is vast, how the Bratwurst is particularly tasty on the grill. Now, get your Bratwurst set-up ready, we're coming to join😋! Good luck fellas!